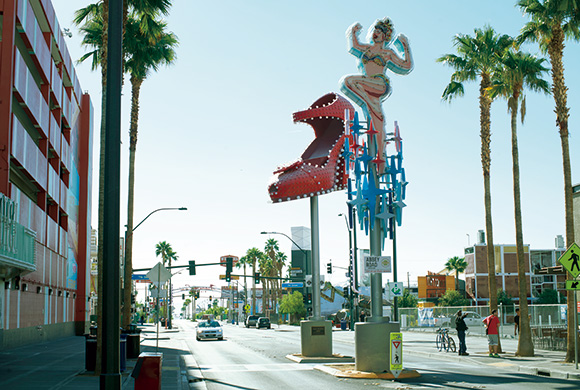 The Downtown Project, aimed at realizing the "Three Cs"
[Downtown Project] Las Vegas, USA
The downtown area is the birthplace of Las Vegas. With the popularity of the Strip, which is the new center of the city, over the past few decades the old city center attracted fewer tourists, and the streets became less safe than they used to be. The Downtown Project was developed to improve this situation, a business begun to work toward regional revitalization.
The total amount was $350 million and included investments in real estate development, small businesses, tech companies and education. The concept involves three Cs: Collision, Co-learning and Connectedness. We wanted to look at facilities where the 3Cs are deeply embedded.
At the 9th Bridge School, which opened in 2013, entrepreneurship training is carried out for students from infant to the lower primary grades. Founder Connie Yeh made the major jump from New York's financial world to primary education with this project.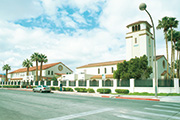 The eastern edge of the downtown area. Further to the east, the project has invested in a new area which further expands it.
For the planning and execution of early childhood education, the school reexamined and made use of the High Scope education model in which children learn according to their interests.
One of the selling points for the primary school is the project-based, diversified thinking of STEAM (Science, Technology, Engineering, Arts and Math) education. For example, some students searching for themes for study began to think about methods for loading and unloading goods. The children undertook research on their own and developed a prototype using cardboard and a rope.
This learning incorporates elements such as engineering, mathematics, art, collaboration and design thinking. Another feature of the school is the involvement of parents and a partnership with the community. Every morning children, their parents and school staff open the school together, fostering a sense of connection. You can see the students of the 9th Bridge School burst out of the building and rush into the town to continue a few times a year their studies.
"The other day, we visited a bookstore," Connie Yeh says. "There are so many opportunities to experience the real world in Downtown. I hope that people can discover their passions there."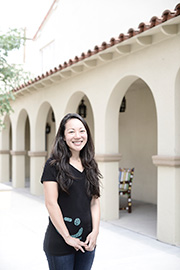 Connie Yeh
Founder
9th Bridge School
Downtown Container Park is a shopping mall housing 38 shops and restaurants. In the adult playground of Las Vegas, it's an area that attracts families and couples. Rather than major chains, it is a center of small, one-shop businesses. Container Park also plays the role of an incubator for the downtown area. "Downtown Container Park is a place where you can encounter, learn from and connect with people," says Director of Public Relations Maria Phelan.
"We are working so that tenants will be able to help each other," continues Caroline Moriarty, General Manager. "There are many events for families, from making crafts to listening to concerts and enjoying film festivals, and you never know who might be sitting next to you. I have also made many new friends through working here."
The Downtown Project is currently in its fourth year. The focus now is on the monetization that will ensure it becomes a sustainable business. From now on, as this big project continues, apartment construction will play a significant role. There will be a total of 231 units, each with one to three bedrooms. "Downtown has a difficult housing situation, mostly either luxury or low-income housing and very few properties in between," Ms. Phelan says. "With the apartments completed and more residents here, our business will also grow. It will make me very happy to supply housing in the city."
From WORKSIGHT 10(2016.10)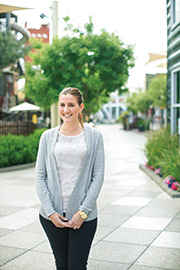 Caroline Moriarty
General Manager
Container Park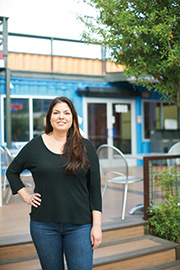 Maria Phelan
Director of Public Relations
Downtown Project