ABOUT
WORKSIGHT
WORKSIGHT is the workstyle strategic media for a business person to think about the working environment. It is focusing on the perspective of re-designing the working environment which is consisting of work space and work policy.
Magazine + Website + Events
WORKSIGHT as media is composed of magazine, website, and events. Magazine is published twice a year, and articles on internet media "www.worksight.jp" are updated weekly. In addition, the editorial members aim to create community for business people to think about the working environment by hosing various kinds of events.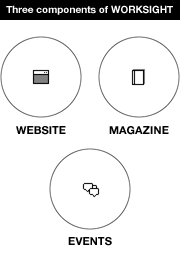 Editor-in-Chief: Shotaro Yamashita
Shotaro Yamashita is the Editor-in-Chief of WORKSIGHT magazine. He joined Kokuyo Office System Co., Ltd. (present: Kokuyo Furniture Co., Ltd.) after graduating from Kyoto Institute of Technology (M.S. in Design Engineering and Management). Shotaro started his carrier as an office designer. And then, he was in charge of consulting services, such as change management, concept work for strategic implementation of workstyle, and document management to support paperless workstyle of clients. Meantime, some of his projects awarded the "Nikkei New Office Award". Utilizing ethnography in the development process, he is also exploring the possibility of new office furniture. Involved from first issue of WORKSIGHT magazine, he has pursued the possibility of a way of working in the future from the field perspectives.

Editor: Yuki Kanamori
He joined Kokuyo Furniture Co., Ltd. after graduating in 2005 from Sonoma State University in California, USA (B.A. in Geography). At Kokuyo Furniture Co., Ltd. he managed the PFI (private finance initiative) business operations in public services schools. Transferred to the overseas business promotion department, he engaged in sales support of office furniture in Europe as well as sales planning of foreign office goods in the national territory. After this he took the lead of promotion in the marketing department. In 2011, he joined the great east Japan earthquake reconstruction support project, where he conducted research and experiment on work style related to energy saving and BCP. He joined WORKSIGHT LAB. in 2012 where he currently works as a workstyle researcher, seeking prospective ways to connect people as individuals or part of a company. He is an editor at WORKSIGHT.

WORKSIGHT LAB, a research institution in Kokuyo group, issues WORKSIGHT magazine. WORKSIGHT LAB is a research institution to pursue next-generation way of working / how to learn, to provide solutions and practical knowledge.
Address:
Kokuyo Co., Ltd
WORKSIGHT LAB.
1-8-35 Konan Minato-ku,
Tokyo JAPAN
Contact: contact@worksight.jp