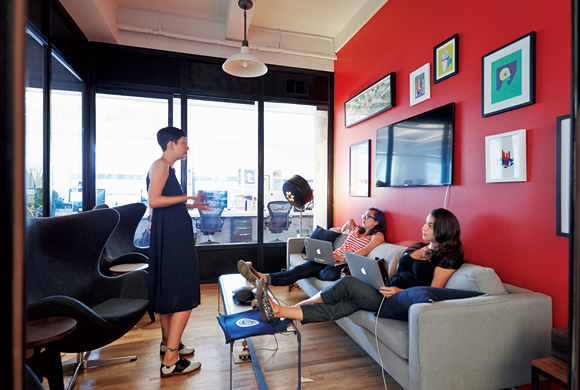 Surrounded by the users'creations
A visually-oriented, multifunctional SNS company
[Tumblr] New York, USA
Images and text can be posted on the web through the multi-functional SNS service provided by Tumblr. The company's head- quarters in New York show at a glance that this is a company that has eliminated "office-ness" in the space.
There are large sofas where employees can stretch out, wooden flooring, and the soothing appearance of plants and trees. The office area is an open space where the conversations of others are heard naturally. This relaxing space is probably most closely compared to people's own living rooms.
The Tumblr office in fact answers the question about what is the culture and values of Tumblr. In the furiously renewing world of Web services, Tumblr has been able to keep its unique existence, its particular values system, and the visualization and sharing of its culture. This is made clear in the office in the Tumblr Showroom.
For as long as a person works here, they will never lose sight of the originality of the company. One example is the artwork decorating the walls. All of them were purchased from artists who are Tumblr users. Although there is a special buyer in the company, other employees can also request the purchase of particular works that they like. What do users think about? What kind of users are loved by Tumblr? The artwork on the walls is a tool for sharing this throughout the company.
"Tumblr is a company that cares about its fans and users," says Creative Director Peter Vidani. "That's why we have specialist teams for this. We care for the bloggers, with teams in charge of communications divided by the fashion, gaming and media fields. We always think about what are the users' needs, and if there isn't something we can do together with them."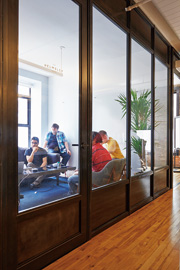 The founder was raised in New York, so all the conference rooms have the names of buildings in the city.
Established: 2007
Sales: Not publically released Employees: 192(2013)
https://www.tumblr.com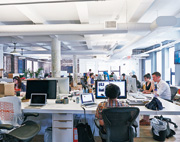 Tumblr has seen very rapid growth. The "single continuous desk- top" is not only to encourage communication, but a way to deal with the sudden increase in the number of employees.
The company frequently holds events invit- ing users to the office. "Tonight we're opening an event for the developer commu- nity in New York, complete with food and drinks," Mr. Vidani says.
Each Friday, all employees gather in the cafeteria for a fixed all-office meeting. While having lunch, each of the departments gives a presentation on what happened that week, and what plans they have for the coming week. People working in departments that don't have direct contact with users can therefore share information at this meeting.
The cafeteria is also the center of informal communications at Tumblr. The roughly 130 employees gather here several times a week for breakfast, lunch or events, and otherwise use the place as they like. Yogurt, chips and fruit are provided during meal breaks, and occasions for having a drink are also held. Through the open, often even chaotic discussions, the voices of the users are also shared.
"People enjoy conversation in all kinds of places, and it's part of relaxing while doing one's work," Mr. Vidani says. "This is also an expression of the Tumblr culture." There's a good example of how the office space that is reminiscent of a living room at home. The employees in the different departments don't have their own desks, but people work as if they were surrounded by one big desktop. There are no partitions dividing employees, making it easy to talk with anyone. Even the executives have no closed private rooms, but work wherever they like. If there is a small meeting, just working around the desks is sufficient. This also is a way in which the Tumblr culture is unconsciously shared with others.
Three dogs wander through the floor housing product design. The dogs aren't owned by the company; on this floor only, employees can bring their dogs to work. "It's common today for a company to own dogs, but not as normal to bring dogs to work," Mr. Vidani says. But Tumblr itself is not exactly a normal company.
"The people here are super funny," Mr. Vidani says. "They've got a really different sense of humor. It's something that I also felt from the day I started working here. Maybe it's part of the Tumblr culture to keep on hiring this kind of person, or maybe it's that people like Tumblr so they change—I wonder which it is!"
So while these individualistic employees are relaxing, they are also looking for their own ways of doing work. What kind of unique idea will allow them to create a satisfying work space. "All of the employees are also very kind people," Mr. Vidani says. "At the very start, I found David Karp, the founder of the company, to be one of nicest people I have ever met. Very modest and open-minded. I think that got handed down to others. Even employees who have not been working here for long understand that this is a place where you can safely express your opinions without reservation and a company that will choose the very best ideas, and they adapt very quickly.
Since the service began in 2007, Tumblr has grown extremely rapidly. A wide variety of text and images has been posted, because Tumblr is an SNS that allows people to choose their own design and express themselves. To date, there have been a total of 63 billion posts, and it has permeated the world of Net users. In May of this year, Tumblr was acquired by Yahoo for the huge sum of $1.1 billion (¥112 billion). Behind Tumblr becoming this major pres- ence is the company's original set of values, an office in which there is a shared culture, relaxed employees, and an office that encourages communication.
From WORKSIGHT 05(2013.12)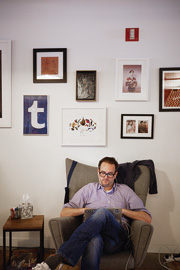 Sitting at work in a deep armchair is one of the Tumblr execu- tives. Company executives are also free to move around the of- fice and work wherever they like.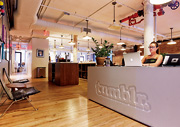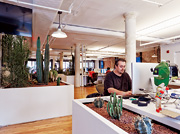 From the entrance to the office, the whole area from reception to the work area is covered in wooden flooring. Greenery helps to in- crease the relaxing feeling.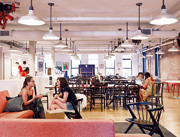 The spacious cafeteria. Breakfasts and lunches are catered, and employees enjoy free snacks and fruit daily.