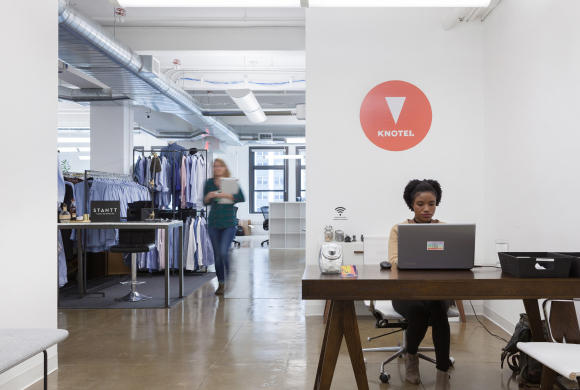 A unique service that provides versatile "headquarters" for growing companies
Although WeWork is all too famous for being the co-working space that represents New York, another company with a fresh approach has been gathering attention recently. Knotel was born in 2015, and today it has grown to over 40 locations in New York, San Francisco, and London.
However, strictly speaking Knotel is not a co-working space. Unlike WeWork and other existing co-working spaces that mainly provide small businesses, freelancers, and students with desks and office space, Knotel offers its resources to companies with 50+ employees and beyond that are looking to find their "headquarters".
"The idea was sparked after running our own office and realizing companies are agile but their headquarters are not. We observed the time and money CEOs were expending on leases, and noticed an opportunity to help these founders grow their enterprises without the headaches of traditional real estate," explains Co-Founder and CEO Amol Sarva. Thus, in 2015, he founded Knotel with Edward Shenderovich, who is the Chairman of the company today.
The truth about the commercial real estate market is that traditional lease agreements do not provide growing companies room for change. Because they are forced into long term leases, companies are tied down by the limits of their real estate contracts instead of being able to truly focus on their goals. Each company spends from several weeks to several months trying to find the right office space, and the cost can go up to several hundred dollars per square meter. With Knotel, companies can access various locations with a single click, allowing them to choose their headquarters from an abundant pool of properties within a short period of time, at a low cost.
When so-called co-working businesses provide space for companies, it is quite common for over 20 companies to be gathered together on one floor, sharing Wi-Fi and other resources. However, Sarva explains, "Such companies always use these co-working spaces as their satellite offices. We on the other hand strictly offer resources that function as headquarters. That is why we specifically provide what is optimal for each tenant when it comes to resources such as Wi-Fi." While a typical co-working space is a passing point for companies, Knotel becomes a "base". The difference here is significant.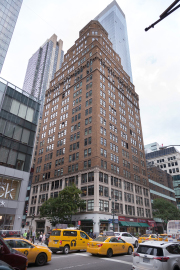 Many of Knotel's locations are found within Manhattan's high-end buildings. We visited the Harold Square location.
https://knotel.com
Looking around inside Knotel, the difference is very apparent. Stepping out of the elevator onto any given floor, one sees offices that embody the culture of each company. No two spaces look alike. Companies that enter into a contract with Knotel are each assigned designers and architects who are involved through every step of the process, helping companies determine what the new office requires, what kind of signage is needed, what color the walls should be, and so on. An office for around 300 employees can be completed in as little time as three weeks. Sometimes special materials or paints are applied depending on the clients' requests. Original offices are created to reflect the demands of each company.
"Tenants look for flexibility in addition to the ability to make the space their own. Knotel allows companies to fully customize their space according to their specific needs, whether it be through design, functionality, or size."(Sarva) In other words, Knotel's strength lies in how it allows its clients to manifest their culture through the complete transformation of its offices.
Fluctuating employee numbers is a given for growing businesses. Here, there is no need to cling to initial contracts and be limited by space despite the need for flexibility. The number of desks and conference rooms can be adjusted. All of this enables tenant companies to focus on their duties, instead of being distracted by office management.
Additionally, Knotel stations a Member Experience Manager on each floor, who responds to the everyday needs of individual companies. Their duties range from making arrangements for events or setting up IT equipment, to maintenance of floor refrigerators and lighting or brewing coffee every morning, all of which are no doubt welcome services for busy companies.
From time to time, Knotel receives feedback from some members that migrated from other co-working spaces such as WeWork, who are convinced that "we are not leaving Knotel."
As a provider of highly flexible office spaces, Knotel has already grown to be the third largest company in New York. According to Sarva, the company plans to expand to Boston, Chicago, Tokyo and Shanghai in the next five years. Knotel has broken through outdated structures to create an innovative business model, and its momentum is as strong as ever.