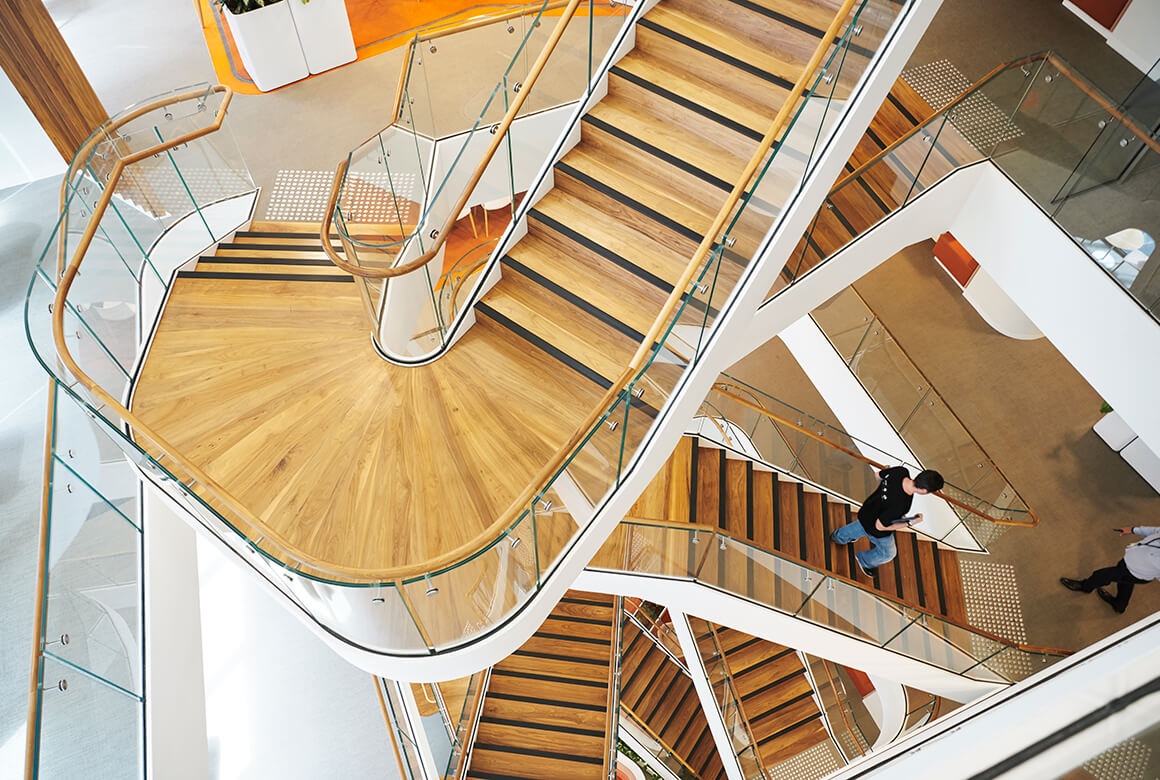 Moving agilely around a hub of staircases
[Jemena] Melbourne, Australia
It was in May of 2017 that Jemena, a Melbourne-based energy company and subsidiary of State Grid Corporation of China, whose operations revolve around electricity and gas, moved headquarters to its current location.
Jemena's new global headquarters, located at 567 Collins Street, consist of five floors of open workspace and two floors dedicated for client relations. The 150,000 square foot (14000 ㎡) office houses 800 employees who had previously been placed throughout multiple locations. The consolidation of offices aimed to reenergize employees' work life and cultivate more collaborations by concentrating its workforce in one place.
"Having multiple offices in the city and surrounding suburbs makes it difficult to build a united corporate culture. Now located in one building, seven floors, where all the teams are together, sparks a whole new kind of sharing of knowledge, moving collectively as a group, and being able to respond faster. In retrospect, this gave them a chance to think about what kind of space they wanted," says Sue Fenton, a senior associate of Woods Bagot, an architecture firm.
The concept of the new office, detailed in a paper titled "Design Intelligence Document" by Woods Bagot, consists of four key ideas that informed the design approach and the textures and coloring of the space; Spark, Kinetic, Flow and Focus, extracted from elements within Jemenas operations.
Spark is about connecting people, and drove the approach for non-destination areas, spaces with slow moving traffic, social spaces and the arrival lobby. The Kinetic palette is applied to spaces for collaborations where chance encounters can lead to casual meetings.
"As unexpected meetings require flexibility, these spaces can respond quickly and are easily accessible. We understand open work space is not for everybody or every task and that is why having lots of support spaces, and private getaways, makes open plan more viable," Fenton explains.
The Flow palette is designed to invigorate and encourage movement utilized in transition zones. Areas designated for Focus are spaces for those who want to work away from their own desks for specific tasks. Fenton adds, "The aims was to design spaces to socialize, build effective relationships and learn more about other teams even while in transit. "
In the center of the proposal by Woods Bagot lays the principle of "Agile Working," an Australian term used to describe a work style design in non-territorial, non-fixed addresses. Fenton explains, "This concept got us thinking about how one would move around and how the space could support different work methods."
Another notable key is the coloring of these spaces. Colours are used in a considered way to support the way the space could be used. They used orange and pink for Spark, the space for socializing, blue to nurture collaborations in Kinetic spaces, yellow for Focus, with private nooks for individual work. The color for Flow, the corridors that connect these three types of space, is copper as demonstrated with copper pipes that curve over head, a celebrated symbol of Jemena's operations.
"While not everybody feels the same about the theory of colors, there is some universal agreement to support basic color effects. Warmer and stronger colours can have an awakening and simulating effect and is often used to energize a space. Blue, which helps to clear mind and works the best in the morning hours is used in spaces for work that requires concentration.
We chose yellow trims for Focus which didn't come from colour theory ," Fenton adds. The overall pale tone of these colors helps reflect and bring light further inside while maintaining an aesthetic harmony with wood fixtures used throughout the office.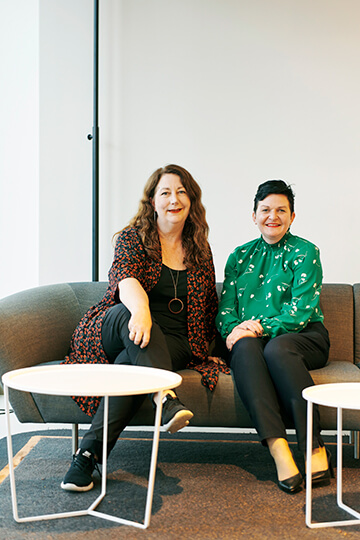 Sue Fenton
Senior Associate
Woods Bagot
Kylie Grainer
Workplace strategy Coordinator
Property Team
Jemena
The center piece of the design is a spiral of staircases. Fenton looks back on the process of proposing various ideas to Jemena, "Jemena was excited about this staircase being dynamic and being a symbol for not only these forms that come from delivering oil and electricity but also creating large landings that allow staff to bump into each other and talk on the way to somewhere. "
The set of stairs that go through all seven floors is not only for employees to move in between floors. The large stair void allows people to see the floors above and below, but it also sparks spontaneous meetings and collaborations. In addition, there are common spaces around the staircase on each floor such as lounge, kitchen, eating spaces for lunch and lockers, giving more opportunities for "sparks."
In general, the energy industry is known to be huge and more traditional workplace model. How did Jemena, an established giant, adapt itself to agile working in a fundamental, ground breaking way? The answer lies in the process Wood Bagot calls "return briefs."
In normal cases of designing new offices, the client might propose a brief with their wish list that the designer/architect would work with. The process Woods Bagot uses is a bit different. design response. Woods Bagot tailors client workshops with expert team members to interrogate any assumptions and test new approaches. According to Fenton, this process of the "return brief" is a more collaborative way to define the brief but also a good place to challenge and test ideas. It begin the process of translating the brief to a spatial design response that gets everyone on the same page.
"We are not trying to say you want to be agile or ABW, that this is the answer. Each company is quite unique and therefore the work looks different. We are proud of the fact that the work is an actual embodiment of the process and unique solutions.. There might be different companies to go for different looks, but we like to think of it as being more about listening and responding to what we are hearing," Fenton says.
Fenton is excited that "Agile thinking was happening in a big way (in Australia) much before other countries. When visitors have tours of some of our earlier projects, they couldn't believe people were encouraged to work from home at least one day a week.
Jemena successfully built a collaborative office while reducing costs with this concept. "We were able to provide spaces for people to come together to promote sharing of ideas, spaces that acknowledge the benefits of having more minds working together on a problem to benefit the outcomes." Fenton said at the end of the interview.
—————————————————————————
Additional six questions regarding before/post COVID-19 work environments
Q1: Can you tell us about current office attendance? What is the percentage of workers that come to the office, and how often do they come?
Pre-COVID the office space was able to accommodate the full cohort of Melbourne-based workers (around 800). However, this number would flex depending on the individuals working arrangements (that is whether they have work-from-home arrangements in place) or whether they are on-site at another Jemena location. We average occupancy of around 75%.
Q2: What is your telework/work-from-home policy? For which positions/departments does it apply? How do you manage tracking work attendance?
Telework or working-from-home is well suited to Jemena's Corporate Functions (namely those based in our Melbourne head office). This includes things like: Customer Services, Digital Design, Corporate Affairs and Marketing, and Legal. Our field-crew and Control Room Managers continue to work from the office (or a Jemena depot) given the nature of their work and/or technologies required. We encourage a healthy/work life balance, so while we stipulate our people must complete 7.5 hours each day, they are able to manage their days in such a way that they can attend appointments around their working hours. It is up to each manager to reach agreement with their team members and monitor work performance and attendance accordingly.
Q3: In your eyes, how smooth was the transition to telework? How much preparation was in place prior to the pandemic?
Technology reliability represents an obvious challenge, but as it improves this has diminished. The biggest challenge really stems from the lack of interaction between individuals – it is much easier to understand what a person is saying when sitting face-to-face with them (noting a lot of what we say is communicated non-verbally). Working from home can also leave people feeling a bit isolated/lonely, so we need to take steps regularly to connect and maintain a sense of team.
Q4: Have there been any interesting findings since the transition?
Working from home provides a window into people's personal lives that you would not normally see. This is a great way to get to know your colleagues a little better.
Q5: What are the challenges faced in enforcing and adopting telework?
While there is a lot of technology available to us to support working from home arrangements, we need to be mindful that not all of our employees are as adept at using technology, which necessitates training to ensure everyone is similarly skilled.
Q6: After the pandemic, do you plan to go back to conventional work arrangements? Or do you plan on keeping telework?
While it is still too early to say, we know our return-to-work plans will rely heavily on technology/work-from-home arrangements so we can minimise the number of people in the office and ensure social distancing is maintained.
photo: Hirotaka Hashimoto
Web exclusive
The visit was done in October 2019 in Melbourne
Additional Question in July 2020