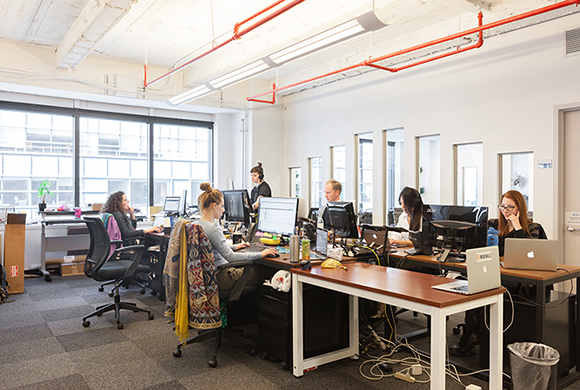 A Major hub accelerating the rise of startups in New York
[Grand Central Tech] New York, USA
"New York is the best place in the country to establish your company. New York has a holistic, robust economy. There are creatives making theater, artists, bankers, people in media and entertainment, people in content and publishing. All of those industries are well represented here, and then there's a strong tech sector. You have a more healthy, enjoyable economy which is not always the case in places like San Francisco, where everyone is working on tech. It's nice for people to be in a more diverse environment, from a thought perspective and from a population perspective. That will ultimately spur healthier, more interesting businesses."
So explains Matthew Harrigan, Co-Founder and Managing Director of Grand Central Tech (GCT). New York City is currently developing into a smart city, and in January 2017, it was awarded the "2016 Best Smart City" designation by the Smart City Expo World Congress. Here, GCT plays a crucial role in integrating tech companies within the city.
"Grand Central Tech is like a university. Grand Central Tech has an Accelerator program, an Urban Tech Hub where all the companies are working on solving city problems such as infrastructure, logistics, and clean energy, and Growth space for companies that graduate from either of those programs," says Harrigan. The slogan for every program within GCT is "Adult Swim Only". The famous Cartoon Network calls the hours during which it broadcasts its more mature animated program content "Adult Swim", a reference to the hours where "only adults can enter the pool during the summer". Most accelerators today accommodate for companies of various levels and stages, but GCT is an organization that focuses on assisting companies that already have knowledge and experience, not companies that have just started taking their first steps.
GCT is housed in the same building where Facebook first opened its New York headquarters. The Accelerator program on the third floor is a somewhat unique one, where rent is waived for the first year. However, with 1,000 companies applying for 20 spots, competition runs extremely high. Selection is narrowed down to 20 companies with the highest technical capabilities and potential.
"Our mission is to demonstrate that tech as a sector can be truly excellent. When I say that, I mean it can be both lucrative and thoughtful. Thoughtful means we want to build companies that are diverse, that think about where they're sourcing talent from, that have friendly and thoughtful employment policies so that the tech sector is not viewed as a negative in the broader economy but as a positive. Our corporate partners approve of our mission to create lucrative tech companies that are thoughtful. I think that they also recognize that the caliber of talent housed under our roof is quite high by comparison to other similar organizations in the city and across the country. They are trying to always be aware of what the best talent is working on and what tools they are using to do it, so that they can make sure that they are involved in the next big thing and enabling the next big thing. I think a lot of them view interacting here as a way of giving back, but also staying smart and creating the best next generation's worth," Harrigan says.
In general, investing in their participators is a requirement with most accelerators, but this is not the case with GCT. When GCT works with a tenant and fundraising becomes necessary, they may apply GCT's fundraising mechanism. But even then, it is strictly a result of GCT choosing the best methods in order to work with companies that are truly committed to the advancement of the tech industry.
Harrigan further explains: "It is an interesting thing from a location perspective. You're in Midtown Manhattan and startups are not very common in Midtown Manhattan. They're very often in Lower Manhattan or in Brooklyn. Those are the "cool" neighborhoods, and people want to work close to where they live, but as tech gets older and the people working in it are older, those who have families and live in houses out in the suburbs, being located in Midtown makes it much easier to get there. Increasingly, startups want to be located in Midtown because this is where our transit hub is. I think increasingly you're going to see tech companies moving to Midtown to benefit from that convenience."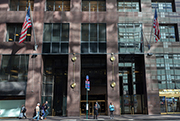 GCT's headquarters are based out of a prime Midtown location, attached to Grand Central. The building owner is also one of the co-founders of GCT.
https://grandcentraltech.com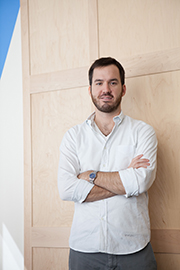 Co-Founder and Managing Director Matthew Harrigan
Located on the 4th floor is the Urban Tech Hub, a co-working space filled with companies solving city challenges. It was created in partnership with the the New York City Economic Development Corporation, and it was constituted to support the urban tech industry. Because it receives a grant from the city, the company is able to rent out its offices at a price much lower than market value. Compared to an average of $600~$700 per desk, Urban Tech Hub is able to lease the same square footage for $400, no doubt a huge attraction for startups.
The Urban Tech Hub's Executive Director Robinson Hernandez explains, "we have created a space in partnership with the City of New York to support the urban tech industry here. We are looking to find a way of bringing it together, to create connections between companies, between startups, between government, between organizations and supporters. Last year, New York City was awarded the 2016 Smart City Award. That was in recognition of these types of programs."
One of the Urban Tech Hub's goals is to promote economic development for the City of New York. Economic development leads to job creation, which is the reason the city is providing funding. Simultaneously, the city is also able to take advantage of the new technologies that are created here. In fact, a company that does clean tech retrofitting for buildings, and other companies that support community development, logistics, or open data have already entered into contracts with the city.
Tech competitions are also held from time to time upon the city's request. "We do tech competitions where a city agency will say, 'I'm interested in this problem and solutions for it.' Many of our companies will do a pitch to find ways to solve that challenge. In the case of the New York City Housing Authority (NYCHA), which is the largest residential owner of residences in the United States, 400,000 people had a competition here. They selected five companies that could implement their technology with the NYCHA developments. They want solutions and they find a way of matching it. We've done that with other agencies as well." (Hernandez)
The Urban Tech Hub has also just announced "NYCx", another captivating program. This is a platform that allows the city to pilot many programs and test the new technologies developed by startups. It is an example that shows the city's intent to strengthen its ties with the tech industry.
Last but not least is Growth on the 16th floor. This space is designated for companies that have graduated from the GCT Accelerator or the Urban Tech Hub. In addition to encouraging collaboration among alumni companies, the space allows occupants the advantage of being a member of the GCT community. Floors 5 through 7 are currently under construction for further expansion, and in addition to a new bar and terrace, new tenants such as a day-care center and shops will be added in 2019. Midtown New York is deemed to be a new mecca for incoming startups. GCT is ready.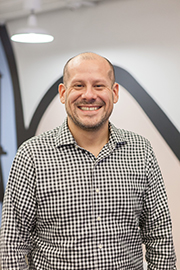 The Urban Tech Hub's Executive Director
Robinson Hernandez