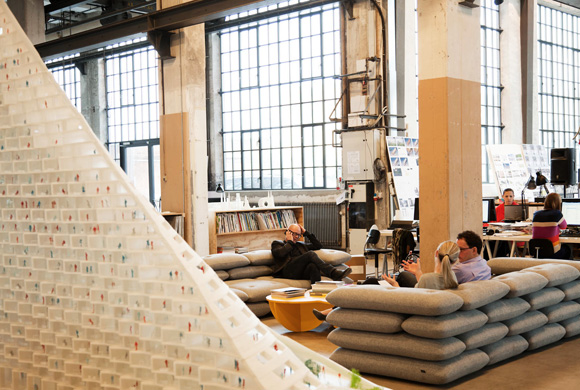 Maximizing the Individual Enhances the Sense of the Organization
A young and energetic architectural design firm, growing from from Scandinavia to a presence around the globe
[Bjarke Ingels Group (BIG)] Copenhagen, Denmark
With offices in Copenhagen and New York, the Bjarke Ingels Group (BIG) is a rising star in the architectural design world, involved in a series of high-profile international projects. Founded in 2005, it at first focused on projects within its native Denmark, but soon very quickly expanded its activities into Europe, North America, Asia and the Middle East.
BIG's leader, Bjarke Ingels, was born in 1974, making him a still-youthful 38 years old, but he has already made an impressive mark as an architect, with a wall covered with prizes, and lecturing at Harvard, Yale and Columbia. But with a variety of architectural projects going on at the same time in many cities, each with its own environment and needs, an organization that is based only on the genius of one person isn't going to make it. But at the same time, entrusting each project to the individuality of the architect leading it would make it impossible to form a cohesive identity for the organization.
However, BIG has not run into this problem, and has seen continuous growth. The reason is that the employees, a group of highly talented people from around the world, are united by team thinking and shared vision.
"I don't see BIG as a very hierarchical company," says architect and partner Jakob Lange. The partners, who have been in collaboration with Mr. Ingels for years, bring a range of empirical knowledge to the question of how to make success easier, but there is no guarantee that their ideas will get preferential treatment. "For each project, team members will come up with a huge number of ideas, but the standard for deciding whether they will be used is based not on who had the idea, but the quality of the idea," Mr. Lange says. "If an intern has a great idea, then that is the one we will use."
Once the ideas have been released, they will be weeded out during a series of design meetings, and will continue to evolve. One hundred ideas are worked down to 10, then to three—but they aren't just narrowed down in this way. Through trial and error, one design idea might be split into two, with, say, one beautiful design and one functional design cross-breeding to mutate into something different. "Our approach is to create a graph, like a Darwinian tree of evolution," Mr. Lange says. "In the end, the strongest ideas, the ones that fit with the project, are the ones that will survive."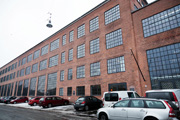 Established: 2005
Employees: approx. 110

The Bjarke Ingels Group (BIG) is an architectural design firm headquartered in Copenhagen, with offices in New York and China. Stressing a balance of social, economic and environmental considerations in its proposals, the company has seen achievements in areas all over the globe.
Boards and models are used in meetings. The official language within the company is English; many employees do not speak Danish.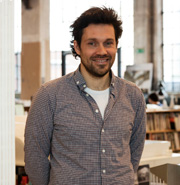 Jakob Lange
Architect/Partner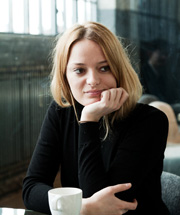 Daria Pahota
Public Relations
In design meetings and other occasions, the common language used by the members is models. Many of the BIG architects who are digital natives skip the use of paper from even the sketch phase and use their computers. Ideas may be drawn up in CAD software, with a model later created on a 3D printer.
Three-dimensional architectural design is hard to understand just by looking at either paper or a computer screen, though, so it's much easier to talk over things if the real thing is there. "Different problems will emerge at the stage of working through the idea, so we make models as a way to search for the solutions," Mr. Lange says. In principle, the company keeps all the models that have been built.
The main reason behind the Copenhagen office's move last year was so that the staff could build even bigger models. The previous office was in a former beer bottle factory, and the new office has a much higher ceiling and a wider space. In the office now are models including that of a skyscraper under construction in New York, the Lego Museum being built in Billund, Denmark, and others—but there is no sense of a lac of space.
There are almost no partitioning walls in the office, a forethought that allows employees to communicate freely. The windows are large, another part of the goal in the office move to create a good influence that increases the employees' motivation and inspiration.
"When the company was still small, Bjarke repeatedly told employees about his vision," says public relations director Daria Pahota. That vision was shared verbally by the founding members with their new colleagues, so that all employees today share it.
One of the keywords in BIG architecture is Hedonistic Sustainability. To protect the environment and resources, sustainability brings with it images of regulation and perseverance; combining this with hedonism reflects a thinking that if it's not fun, people won't continue in any activity. Expressing this vision in design shows the creativity driving BIG.
For example, instead of making greater use of bicycles in order to reduce CO2 emissions, a loop that uses a bicycle to go from the roadway to the tenth floor was built into the building. Also, in one of BIG's first projects in Copenhagen Port, a swimming area was constructed with the goal of fostering a natural consciousness about maintaining clean ocean water. The combination of these two ideas was given its chance to bring the BIG name and vision to the world at the Denmark exhibition at the 2010 Shanghai World's Fair.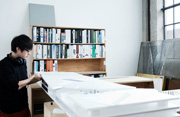 The modeling workshop is where people can go when they want to do concentrated work. It is a comfortable working area.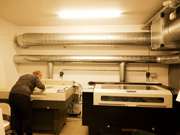 A 3D printer, indispensible in model making. The materials needed for the models are in this room.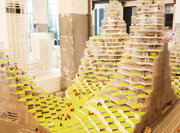 BIG has accepted an order to construct Lego Land, an educational entertainment park of Lego, from toymaker Lego of Denmark, scheduled for completion in 2016. And there is a LEGO-inspired proposal for mixed-use development.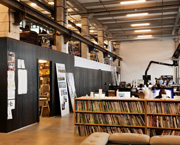 Second-floor of the building, housing the management of the company.


360°View
*Touch Picture for 360° View
The BIG culture stresses creating a more pleasant working environment for employees, and of promoting communication. The Copenhagen office has an open cafeteria, where lunch is catered for all employees daily. The event known as Team Dinner is also held, bringing together the members of the different project teams once each month for a meal and fun paid for by the company.
Communication with the New York office is also taken very seriously. Through 24-hour connection via Skype, information can be exchanged, people can show each other their models, and real networking often occurs. In a large-scale research project two years ago, staff from the two offices visited Japan, traveling to both Tokyo and Kyoto. These careful considerations for the entire company are connected with deepening the sense of team thinking and shared vision, and continues to push the evolution of BIG.
Web-exclusive contents
(January 28, 2013 coverage of BIG in Denmark)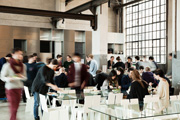 Lunchtime at the office. All employees enjoy a catered lunch. By sharing a meal in the same place, the distance between people can be made closer.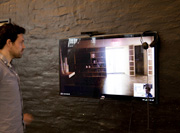 Teleconferencing via a wall-mounted screen. The office is continuously connected with the New York office by Skype.