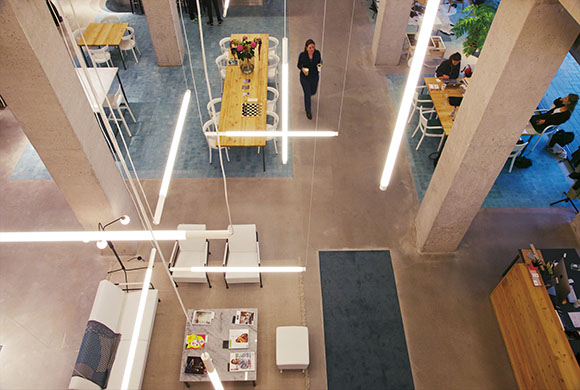 Inspirational design for discerning workers
The high-end serviced office
[Spaces] Amsterdam, Netherlands
Few would guess that the elegant open space that has more in common with a luxury hotel lounge is actually an office. The space was designed by top office designer Sevil Peach, in whom Spaces co-founder Frederique Keuning has complete faith. "She never fails to impress me," says Keuning.
Keuning previously worked for the marketing department of a publishing house, where she had nothing at all to do with either offices or real estate. Then one day, she says, "I just thought that the workplace ought to be a more fun and stimulating place: a place where people could connect and work together better."
Spaces, then, was set up by an industry newcomers with only co-founder Martijn Roordink experienced in real estate. And yet since its establishment in 2008 business has thrived. This is partly thanks to Keuning's having encountered investor Rattan Chadha. Chadha is known as the original owner of fashion brand Mexx, who went on to start the design hotel chain CitizenM. "He was the one who recommended Sevil Peach as a designer. I was confident that with him I would be able to run things differently from your average shared office or the real estate world."
Running things differently from your average shared office. What that meant, it turns out, was running things like a hotel – the office as a brand, the office as a service. The idea proved a huge hit. The facility was fully booked from the first day of opening, and in just six years the number of locations has increased to four, with 700 members.
The business model of providing workspaces and membership for individuals alongside rental space for corporate tenants hasn't changed since the early days. What's different from your average shared office is the number of corporate tenants. "It's a big building to start off with, so it makes sense to get in corporate tenants to provide a stable income. Plus, it means we have more people here, which is also advantageous. The more people, the more dynamic the place feels. That's exactly what I want in an office."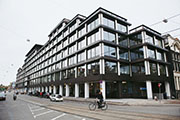 The building Spaces rents on Vijzelstraat used to be a bank.

Established: 2008
Locations: 3 in Amsterdam,
1 in The Hague
Users: approx. 2500 Employees: 45
http://www.spacesworks.com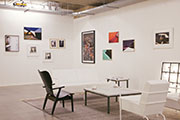 When we visited, this art space was exhibiting works by young photographers, in conjunction with the Photography Museum Amsterdam FOAM. There's also a permanent display of art belonging to Spaces.
This particular office is on Vijzelstraat in the centre of Amsterdam. The office floors are occupied by companies of between two and 80 people. They range from law firms and marketing consultancies to IT and film production companies. The convenient city centre location means it has its fair share of global corporate tenants.
It's worth noting that the tenants don't shut themselves away, but mingle with each other. Peach's design itself, whilst based on aesthetic principles, is meant "to create a familial atmosphere and a friendly environment." The number of doors and walls has been reduced, allowing people to see each other across the space. The atrium that stretches from the ground to the second floor is also intended to create a visual sense of connection.
"Of course, it's important that people actually want to connect. If people aren't interested in meeting others, but would rather just get on with their own work and then go home, that's fine too. Although there aren't many people like that."
The provision of a canteen for members and tenants reflects the concept of "office as a service." But this isn't just any canteen. "We call it a restaurant," says Marketing & Communications Manager Lindsay Pronk of the dining room, which carefully selects healthy ingredients for its menu. One month it held a 'health week', where every day had a different theme such as 'vegetarian' or 'additive-free', giving diners a chance to think about their health. On the ground floor drinks are served by popular local brand Bocca Coffee.
"Food is important," says Pronk. "Good coffee and a proper meal make you feel happier and more energized. That helps you work better."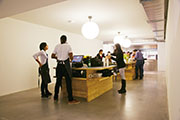 Cashier in the canteen. Users and guests select their food and drink and pay at the cash register in what used to be the bank's safe.
A questionnaire asking why people choose to use Spaces reveals plenty of answers along the lines of "I like the energy that runs through the place," and "I like the family atmosphere; it's like being part of a community." Others praise the customer service of Spaces staff.
"Comments about a relaxing space and great staff make us really happy. The staff are the face of Spaces. We try to be friendly at all time and pay close attention to users' needs, but it's more informal than an average luxury hotel. It's the staff that make Spaces what it is. Whenever we hire someone new, our tenants ask us where we find such fantastic people!" says Pronk.
Comments such as "it's become easier to recruit new people," speak of the brand value of this place. A great workplace is somewhere more people will want to work. "It's as though the minute they step through the door they feel inspired to work hard," says Pronk.
Maybe that's why the number of members who belong to big corporations but choose to work at Spaces has increased of late. Offices in the Netherlands are downsizing, and working from home, or at least outside the office, is encouraged. Essent is a perfect example. So where do these estranged office workers work? Spaces is one answer.
When the internet first started to take off, they said that one day everyone would work from home. That didn't happen. It turns out working at home, alone, is no different to being stuck in an office.
"What we always say is that it's impossible to succeed alone," says Keuning. "Talking to people, and being inspired by them, is vital." Hence the revival of the office. At the same time requirements have diversified: from sitting at the same desk every day to moving around an open space, with the opportunity to use a private area when concentration is called for. Big corporations aren't light enough on their feet to meet all these needs, but Spaces makes them attainable. Putting out feelers to ascertain what workers want from their offices has led to innovations such as private areas within open spaces.
"One of our Spaces members works for a bank. Six years ago the bank built a completely modern new headquarters, but now the office is downsizing. They said it was too open a space, difficult to relax, and not an easy place to invite customers. The member says that Spaces has a good balance of openness and privacy. It's very interesting," says Pronk.
From WORKSIGHT 07(2015.4)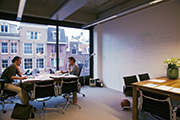 The office of a data analysis company. Each design-conscious tenant decorates their space according as they wish.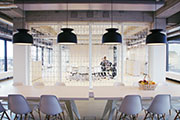 A law firm tenant. Overseas companies are drawn to the central Amsterdam location.