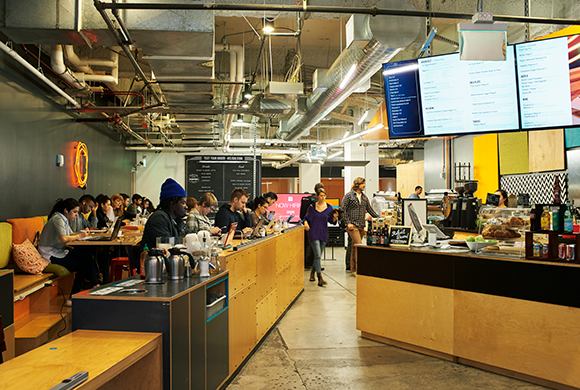 To increase work productivity, choose working in a cafe
A cafe that provides working space while seeing ongoing evolution
[Workshop Cafe] San Francisco, California
The location: San Francisco's Financial District. This "Wall Street of the West Coast" is lined with the high-rise buildings of banks and insurance companies. In one corner is the Workshop Cafe, a place currently gaining a great deal of attention. Many people work silently, coffee in hand; it also looks like a co-working space. However, Cafe founder Rich Menendez insists that, "Workshop Cafe is not a co-working space."
"Before creating Workshop Cafe, I looked at many co-working spaces," Mr. Menendez says. "I didn't want to recreate an existing facility, but to give people what they want and to provide what I thought would be an original idea." Most co-working spaces employee a monthly fee system. However, with this system, customers are less likely to enter at first glance, and while there may be a community of frequent users, it's more difficult for people to join later on. Because of this, the Workshop Cafe wanted to broaden things at the front end, so rather than using a monthly fee system, people instead pay each time they use it.
But why in the first place was it a cafe? "I noticed that a lot of people actually want to work in a cafe," Mr. Menendez says. "This was especially true for people working as freelancers or those whose company has no office. This could be called the Los Angeles style, or a project-based workstyle. This structure can be seen in the movie business, where a variety of specialists are brought together to make the movie, then disband after completion. Even people who normally work at home also think about mixing with and working with other people. When people need to call others and have a meeting, a place like the Workshop Cafe where they can get together and use a whiteboard may be what they want rather than their home."
It was with this thinking that the Workshop Cafe first began, but Mr. Menendez says that they assumed that another group would also be a target. "These are the people who have an office outside of the home," he says. "In other words, people who work for a company. Even if you have an office, there are times when you want to focus alone. We soon learned that there were people who wanted this. Although to some extent we expected this, after we opened and looked at availability, I was surprised that there was more need here than was expected."
More than a cafe or a house, an office is of course a more suitable place to work. Most companies provide good work spaces, seen in both design and function. Still, there are many people who choose to work in a cafe.
"For example, if someone working in an open space is silently working toward some deadline, people passing by might stop by to talk and ask things like, 'Any plans for the weekend?'" Mr. Menendez says. "In other words, no matter how great the office is, people may find that the one problem they can't solve is that other people in the office will unintentionally get in the way."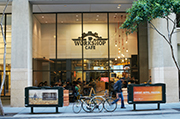 Exterior view of Workshop Cafe.

Founded: 2013
http://www.workshopcafe.com

Rates (per hour):
• Workspace: $2-3
• Single-use booth: $5
• Five-person meeting room: $25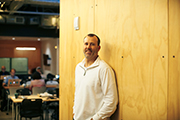 Workshop Cafe founder Rich Menendez.
If someone wants to concentrate and goes into a meeting room alone, this sends out a message of "Leave me alone!" which can make a bad impression on others around him or her. It's the same at home. If someone just keeps on working at home, it feels as though they are absolutely ignoring their family. The person might think, "I'm really busy, but even if I can't be involved at least I'm physically around at home." But, ironically, precisely because the person is near, there is that same message of, "Leave me alone!" It's because of this that many people instead go out and gather at the Workshop Cafe.
It's very common for people to stay a long time in the Cafe working, but only order one or two cups of coffee. At the Workshop Cafe, that's not a worry. That's because there is a seat reservation system in place. The guest says that they want to use a seat for two hours or three hours, and they simply pay for that amount of time; they can stay without worrying about eyes being on them. The average time spent by customers in Workshop Cafe seems to be four hours, shorter than for co-working spaces but longer than for regular cafes. The Workshop Cafe is neither a co-working space or a pure cafe, but a real place that working people have asked for.
When you do enter the Workshop Cafe, Mr. Menendez's power of observation and insight can be seen applied to the creation of the space. In this kind of business, you would expect that seats that take up a lot of space would be popular, but Mr. Menendez says this isn't the case. "The areas where the space between seats is narrow are especially popular," he says. "It's like going to clubs or bars: you might hate it if it's too crowded, but you'd also hate it if there weren't enough people there. Maybe it's something very biological, like when water buffalos gather at a watering hole, people might think that because people are gathering here this must be a good place. You feel safe precisely because somebody is next to you. And, because they're not people that you know, you don't have to talk to them even though they're close and they won't get in the way of business, so you have peace of mind and can just get to work."
The usability of the space has also been ingeniously designed. Any seat, even for meetings, can be reserved in advance, while any seat that is open can of course be immediately reserved. Bookings through the web or using the Cafe's app are especially easy. Because iBeacon has been installed in the Cafe itself, people can check in and check out without having to show their membership card. It's a completely hands-free, smooth process, from check-in on entering the Cafe to the check-out procedure when leaving.
According to Mr. Menendez, exchanges between users have also been born through the app. The app includes a community function that allows people to know who is currently sitting in the Cafe. He even says he was surprised to discover that there was a case in which users who hit it off after meeting in the Workshop Cafe actually went on to establish a company.
The usability for customers was the top priority in Mr. Menendez's thinking, and reflects the results of a number of studies he conducted. A total of ten hours of interviews, with each person interviewed for 15 minutes, provided information on how long they stayed, when it was that they visited, where they chose to sit, why they chose that seat, and many other similar questions, the answers to which are being used in the creation of the space.
Looking closely at the interior, it has a rather rough, even cluttered, atmosphere. "Do you know why we called this the Workshop Cafe?" Mr. Menendez asks. It's because a workshop is a place to make something. Illustrations or photos are fine; computer code is good; whether digital or analogue, we value that it's cool to create something, and I believe this something we want to share with our customers and they with each other."
Therefore, the walls show that they are a DIY project by the staff. If everything looks like it was amateur it would just look cheap, but if the space were as luxurious as some co-working spaces much of the flexibility of the space would be lost. The result is more right on the line of things being imperfect.
"If the space were too perfect, we'd lose some of our challenging spirit," Mr. Menendez says. "There's a lot of us in the Workshop, and we put a lot of thought into making it so things could change at any time. If we want to make that counter over there a little bit longer, we just have to bring in an electric saw. If something is not popular with the customers, we'll adjust it. In this way, we're changes because we want to help make your work as efficient as possible."
Design: In-house & Martinkovic Milford Associates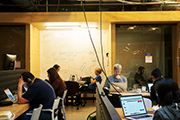 A meeting room can be seen behind the Cafe.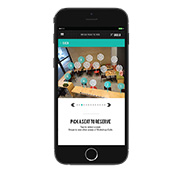 Reservation app. Seats can be selected onscreen.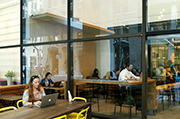 Like an open cafe, there is seating outdoors where you can enjoy the breeze.