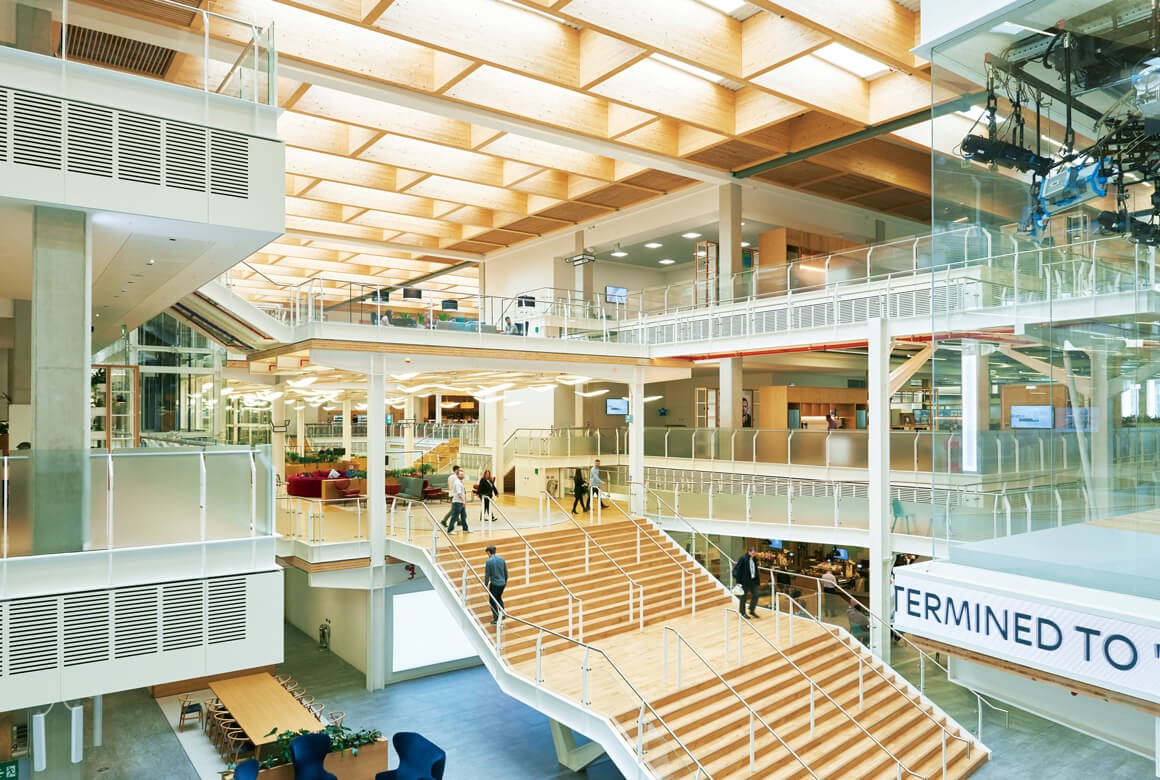 A broadcaster's next-generation office attracts talented people
Sky is a leading telecommunications and media company, and the UK's largest paid-TV broadcaster. We visited the Sky Central building, the company's flagship building at the heart of its13-hectare Sky Campus headquarters in Osterley, West London.
In this space, Sky is trying to break away from the traditional "muscle and guts" model for broadcasting companies. The new goal is to promote flexibility and openness, and to encourage the flow of people and ideas across the business.
Sky acquired the site from the famous department store, Harrods, and it includes former warehouses, among them, properties belonging to Gillette. Of the 7,500 people working in Sky Campus, approximately 3,500 are in Sky Central. Company employees involved in program production spend a lot of time on campus. Because of this, one of the main concerns is just how happy and healthy employees can be in the office.
"People spend a lot of time here," says Neil Usher, Sky's Workplace Director and a well-known expert in workplace management. "Not many people will want to stay here if we don't provide convenience and recreational facilities."
A highlight of the Sky Central design is the long span roof with glued, laminated timber beams spanning up to 21 meters. Natural light streams into the three-story central atrium through a grid of skylights, promoting an atmosphere of warmth and openness.
The area also is populated by some 25,000 plants. The building houses six cafés and restaurants, a 200-seat digital theater, event center, and the UK's first cashless supermarket. Other buildings house a cycle shop and health/beauty and nail salons. One facility that is especially popular with the tech workers is a one-stop IT service lounge, where equipment problems can be resolved on the spot.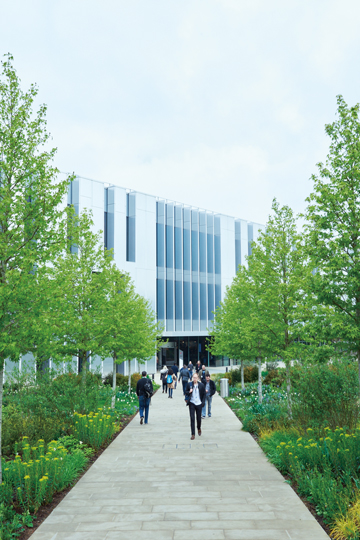 One building's exterior. Across the vast campus area, there are ten unique buildings, each with a different design concept.
"It's called the Genius Lounge, based on the Apple Genius Bar," Mr. Usher says. "If there is an IT or communication problem, this can be resolved by talking with the Geniuses, and people can also receive kits and other items they have ordered here. We also have vending machines full of IT items such as mouse and keyboard kits. We often hear visitors say, 'Why can't we get that in our office?'"
While the design of each building on the Campus has been left to different architectural firms, an overall ethos has been maintained. Sky Central was initially designed by AL_A and PLP, while the workspace was designed by Hassell, an Australian firm which has an established culture of promoting wellbeing.
"We aimed for an environment where people don't have to feel guilty about leaving their seats," Mr. Usher says. "What is too common in offices is a layout in which the working area is on one side, and the resting area is on the other—it makes us feel guilty to cross the aisle! At Sky Central, we made it easy to go back and forth between the desks and other areas. We are trying to organically intertwine space so people can concentrate on work in the most interactive of places."
As is the case for many leading companies, Sky has introduced Activity Based Working (ABW), in which an employee's workplace is selected according to the types of work to be done and the way they will be working.
There are only 2,500 desks equipped with monitors, but an additional 2,500 seats are available in touchdown and meeting areas. There are no private rooms in the building. Not limited to Sky Central, the company divides employees into three categories. Corporate Workers have no fixed desks, but carry laptops around the campus, giving them a completely flexible way of working.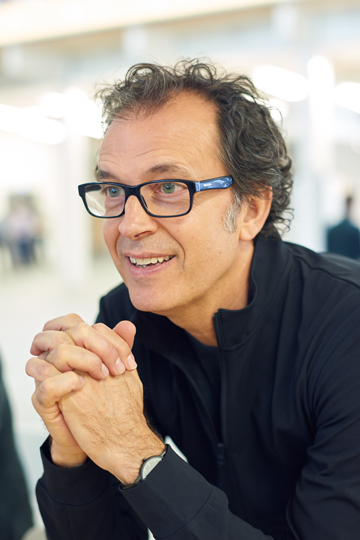 Neil Usher
Workplace Director
Sky
Agile Engineers have fixed seating, so they can form work groups and "scrum" development. Broadcast Tech and Creatives are specialists who use larger equipment. They have fixed seating at desks large enough to hold two monitors. Each group of 200 employees at Sky Central is divided into one of 18 neighborhoods, with a "home zone" set up for each.
These are places intended to be halfway between a home and an office, with an open kitchen, tables, monitors, and more. "If there is a celebration, such as an employee's birthday, everyone will gather there," says Mr. Usher.
Many companies introduce new management when they initiate new ways of working, but Sky did not. They did, however, launch a policy to discuss and make their own rules.
"It's all about asking people to be a good neighbor," Mr. Usher explains. "No PowerPoint presentation is needed to become a good neighbor. People intuitively know how to be respectful. In order to live with other people, there are things you can and cannot do. We didn't force people to swallow this, and I think that's one of the reasons why these new ways of working were accepted so quickly."
Sky is moving from being a broadcaster based on power and guts to a new style that is more health conscious and supports today's technology. The flexibility to accept these new ways of working also attracts excellent talent who can keep up with a rapidly changing industry.
Consultancy for Work Style: Hassell
Interior and executive architect: PLP
Architect: AL_A
From WORKSIGHT 12 (2017.12)