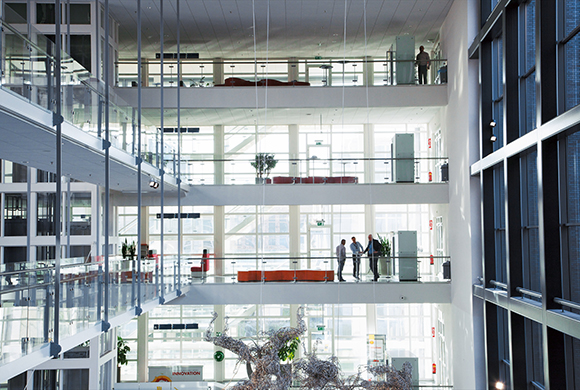 One step beyond exploring the future, all together
Energy and petrochemicals company
[Royal Dutch Shell] Amsterdam, Netherlands
2009 saw the completion of a vast Global Technology Hub spanning five wings on the bank of a river outside Amsterdam city centre. It belongs to Netherlands-based global energy company Royal Dutch Shell. The company's research & development centre was established in 1914, with a single building and just nine people. But as Royal Dutch Shell itself grew, its research broadened and became ever more forward looking until at one point the centre consisted of as many as 50 buildings spread across 27 hectares. "It was almost like a separate village within Amsterdam," laughs Communications Adviser Peter van Boesschoten. Every morning workers were ferried across the river before heading off to their respective buildings. "We were missing a sense of connection."
From the beginning, Royal Dutch Shell's philosophy was "innovation is context." Innovation stems from the need for solutions. To come up with solutions, people needed to meet and connect with one another. But as Shell grew into a global corporation and its Amsterdam research & development centre expanded, this human connection fell by the wayside.
How to regain the lost context? Why not concentrate 50 buildings spread across 27 hectares into a single building and 7 hectares? The new Shell Technology Centre Amsterdam was born, one of Shell's three major Shell technology centres worldwide – with the other two located in Bangalore (India) and Houston (USA).
"We now have over a thousand people from more than 50 countries working under one roof. If we wanted to come up with all sorts of solutions, it was vital for people from different backgrounds to be talking to each other. So we came to the conclusion that it would be best to have all our employees in one place."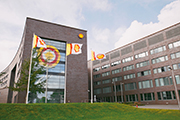 Shell Technology Centre Amsterdam was created in 2009 to unite the company's Amsterdam scattered research facilities. The location was selected with future expansion in mind.

Established: 1907
Turnover: approx. $456.9 billion (2014)
Net profit: approx. $16.3 billion (2013)
Employees: approx. 92,000 (2014)
http://www.shell.com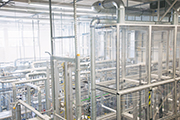 A factory-like large-scale testing facility.
Nevertheless, just getting everyone together in the same building was no guarantee that Shell would find the context it sought. Van Boesschoten goes on to explain the attempts that have been made to encourage interaction and connection through spatial planning.
A long central atrium connects five wings comprising 80,000 m2 of laboratories, test halls, workshops and offices. This atrium acts like the spine of Shell Technology Centre Amsterdam, linking the people working in each of the wings. In contrast to the busy atrium with its cafe and restaurant, the offices don't have a single coffee machine. For something to drink, you have to venture into the bustling atrium. The atrium also sometimes displays artifacts related to Royal Dutch Shell's history as well as works of art, and employees can often be seen stopping for a chat in front of these.
Social network analysis has also been applied to the positioning of departments within the office space. Again, this is a means of facilitating encounters.
"We positioned the departments and desks based on an analysis of who's interacting with whom, and who is at the centre of each network. For example, by putting someone with a lot of contacts at the furthest desk. If he moves, everyone around him moves, and people go over there to see him."
The reason connections are valued so highly here is that the innovation that is born of these connections is the raison d'être of Shell Technology Centre Amsterdam. Specifically, what the Technology Centre does is to develop oil, gas and chemicals technologies as well as conducting research into the energy of the future. All this starts from the tiniest of ideas, which could spring from something as basic as a school science experiment.
"We select the ideas which we think have potential and take them to the next level, which involves trying them out on a bigger scale. Anyone can make an apple pie, but if you have to make 100 pies an hour, 24 hours a day, it gets more difficult. In reality, when you scale things up 999 out of 1,000 ideas no longer work. The remaining one idea will go on to the pilot plant stage."
At each development stage, the scale gets bigger, and the technology more complex. Costs soar. The further an idea progresses, the less room there is for mistakes. When it comes to actually constructing and operating a commercial plant, it will require an initial investment in the billions of Euros, and will run for the next few decades.
It follows that the most important thing is to weed out the impossible ideas at an early stage, in order to avoid the costs arising from mistakes further down the line. 'Speed to failure' is key. Innovation is something that occurs by accident, as the result of repeated mistakes. Hence the necessity for interaction.
"Having more than 1000 people working in the same building has enabled an exchange of ideas at the research level, and made everything more flexible."
The 'context' so eagerly sought by Royal Dutch Shell is not restricted to in-house interaction. For example, visitors to Shell Technology Centre Amsterdam can't help but notice how bright the space is: a glass-walled, healthy-feeling workplace, making ample use of natural light. Consideration has evidently been given to employees' working environment. And yet, this design has at the same time been created to deliver a message. Communications Assistant Imtiaas Ramdjanbeg explains.
"When Shell Technology Centre Amsterdam was completed in 2009, people were becoming increasingly environmentally aware. We wanted to be a friendly presence in the Amsterdam community. The design was meant to show our openness towards society."
The decision to maintain the research location in Amsterdam was also largely based on a desire to connect with the community. As the Dutch capital, Amsterdam attracts talent from around the world, making it a very attractive location.
"We wanted to create an environment where talented people would actively want to work. An open culture and an inspiring environment. Connected internally and also to the world outside. Royal Dutch Shell employees are all outstanding individuals, but we can't solve energy-related problems if we don't work together with the rest of society."
From WORKSIGHT 07(2015.4)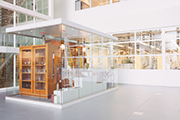 The atrium is also an exhibition space, displaying objects relating to the history of Shell, as well as artworks.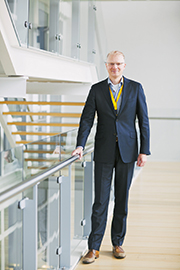 Peter van Boesschoten
Communications Advise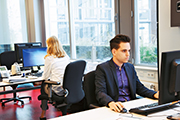 Workspace on the ground floor of the office building. PR staff have their desks here. Although the company's business is energy, the transparent design of the building is meant to convey a friendly attitude towards the Amsterdam community.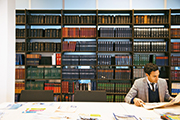 The vast library is essential for a company like Shell whose research looks ten years or more into the future.