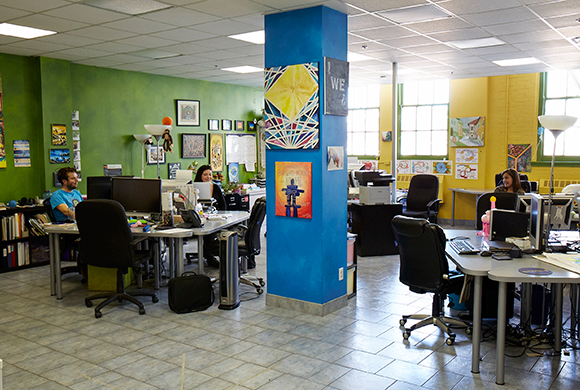 Aimed at solving social problems:
An NGO in Toronto, Canada
Operating a website connecting young people interested in social issues
[TakingITGlobal] Toronto, Canada
Have you ever heard of a non-governmental organization (NGO) that has developed a web site that connects young people with a strong interest in global social issues? There is one in Toronto, Canada, an organization called TakingITGlobal (TIG). It was started in 1999 by Michael Furdyk, who was in his 20s at the time, along with Jennifer Corriero. Michael says that he was playing with computers from the time he was two years old, making him a real digital native. And he was in fact quite interested in technology from an early age.
"When I was in high school, a friend and I launched a site called MyDesktop.com," he says "It was an online magazine about technology that became very popular, growing to over 1 million site users per month by 1999 (and which was later sold to a New York company). And, thanks to the site, there was attention directed at me by the media as well."
Mr. Furdyk was named one of the "20 Teens Who Will Change the World" in the US magazine People's teen version, Teen People, alongside celebrities such as Beyoncé. At that time, he received requests for mentorship from students around the world, so Michael felt the need for an organization to support the students' ideas, and began to build a new website. "To create a more peaceful, sustainable world that everyone can accept, we need to involve active young people from around the world, and help to ensure that they lead." Mr. Furdyk says. That is what drove his vision for TIG.
That site was built during the autumn of 2000. This means it predates the founding of Facebook by about four years. Each year the number of users grew, gradually reaching four to five million—and continued on to today's total of more than 50 million.
There are, roughly speaking, three types of programs provided by TIG. One is Distal Youth Engagement. This involves the idea that young people want to make use of websites, mobile apps and other media to tackle social problems. The second is Global Education. This involves working in partnership with schools and teachers to think about a better education system, and offering training to teachers to make learning more relevant. And the third is Social Innovation, providing training, mentorship, and funding to young people, who can then work on the solutions to social problems. TIG has provided more than $500,000 in grants to young social innovators to date, funded by its corporate partners.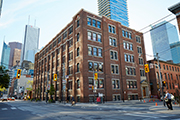 Exterior view, TakingITGlobal office.

Founded: 1999
Employees: 15
http://www.tigweb.org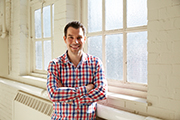 TIG founder Michael Furdyk.
TIG has a diverse range of activities aimed at resolving social issues. One example is the educational games. These are tools for learning about themes such as food safety, health and poverty through games. Some 300,000 people a year visit the site to play them. "One particularly popular game is Ayiti, a simulation game about living four years in a poor country," Mr. Furdyk says. "When facing poverty, do the children go to school, or do the parents send them to work; can they go to the hospital when they are sick? Playing the game helps you to understand complex problems such as this."
The Global Gallery page, a collection of about 50,000 works of art, is also very popular. By looking at the works—paintings and photos from students in more than 100 countries—visitors can also learn about the culture and history of other nations. The page called International Days gives a unique listing of memorial days around the world. Because every day is a special day somewhere in the world—perhaps Blood Donation Day, or Polar Bear Day—this 365-day page helps increase awareness of many different things.
One surprising thing is that all of these activities are carried out by only 15 staff members. There are also more than 100 volunteers around the world, whose energy is also immeasurable. What was the background in Canada behind TIG's founding?
"Canada has a mixed, diverse culture," Mr. Furdyk says. "Canada's largest city, Toronto, also has a large number of immigrants, so it may be in a sense characteristic that such concepts as diversity and global inclusion have taken hold here. When we include our staff and also past volunteers, we have people from more than 20 countries." Canada is inclusive and multicultural, and as such can make a significant contribution to collaborations around the world. "Canada has the reputation that it feels a sense of responsibility, that it is friendly and authentic, and that there is no hidden agenda," Mr. Furdyk says.
TIG has other unusual systems. One of these is something called Kudos. This is to express thanks when staff members do something for each other, with points awarded accordingly. HIPS—Highs, Issues, Plans—is another unique system. In it, each staff member writes down the work they were proudest of during the past week (Highs), current problems (Issues) and the strategy for the next week (Plans). Both Kudos and HIPS can be entered through the website, so that everyone can see these numbers at the staff meetings which take place each week.
In addition to the points for Kudos and HIPS, there are votes cast by employees, with the employee with the most points each month given a commendation. This is called Above and Beyond, and is, "a thank you for success ahead of what was imagined"—and it has a prize. The winning employee gets the privilege of choosing the venue for the staff team lunch for the following month, where TakingITGlobal buys a meal for the team to connect and celebrate achievements.
Because it carries out these kinds of unique activities, TIG has attracted attention from around the globe. In 2007, it was a winner of the Tech Award from Silicon Valley's Tech Museum of Innovation. The award evaluates Technology Benefitting Humanity, with TIG winning the top prize in the education segment. In addition, it was awarded the 2015 Intercultural Innovation Award from the United Nations, along with BMW. From hundreds of applicants, it was awarded the number-five position. "We've been awarded local prizes in the past, but these two international ones were the most important for us so far," Mr. Furdyk says. "I believe, by carrying out intercultural exchanges that connects students and education in ways beyond national boundaries, that our activities will be evaluated." Using technology, TIG's activities to support teaching and learning have been watched around the world.
In 2016, TakingITGlobal's current office building will be torn down and re-built to make room for a new condo-office development. In August, TIG will move just a few blocks away to 117 Peter Street, a new building housing both office and residential units, where they have purchased two office units that they will own.
While TIG's current office interior design and consulting were both done in-house, it has secured an impressive array of partners to design and outfit the new space, to build on and upgrade the unique culture TIG has built. Interior design is being provided by POI Business Interiors in collaboration with Steelcase.
TIG is also being outfitted with new TelePresence Collaboration technology donated by Cisco Canada, and partners CaTECH Systems and Panduit are providing leading-edge cabling and networking to ensure TIG can deliver its programs to impact the world for many years to come.
Web exclusive content
Interviews at Toronto office, October 1, 2015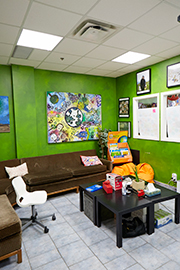 The Inform room. The painting on the wall forms the TIG vision. It was created through the cooperation of the 30 members present at the time of TIG's establishment.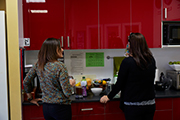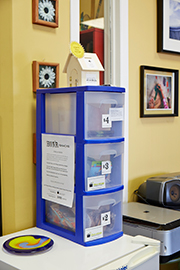 Employees can enjoy a variety of organic fruits and vegetables. There is also candy available (which may not be quite as healthy), provided for free.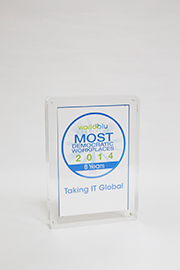 TIG has been the winner of the Democratic Workplace award, noting the degree of democracy on the job for employees of NGOs.