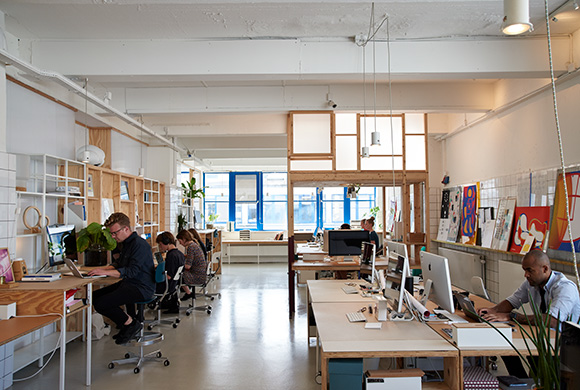 An equitable and sustainable future
born from open innovation
Innovation laboratory creating future options
[SPACE10] Copenhagen, Denmark
Even as some large corporations are questioning the importance of open innovation, there are institutions whose unique activities in this area are attracting attention. One of these is SPACE10, the innovation laboratory of famous Scandinavian furniture brand IKEA. It opened in 2016 in Copenhagen as a place to create new ideas, and to look at IKEA's vision, "To create a better everyday life for many people," from a new perspective. Unique about SPACE10 is that it is an external unit independent from IKEA, and that it works in a completely different way from the core business of IKEA.
"The story goes back five or six years," says Simon Caspersen, part of founding SPACE10 and today Director of Communications at SPACE10. "At the time, I was working in a creative studio, ArtRebels, together with Carla Cammilla Hjort, who was the founder of that studio and today Director at SPACE10. She met with Inter IKEA System's CEO (Torbjörn Lööf ) in 2012 and short after we designed a limited-edition furniture collections for IKEA called Bråkig. That was released two years after and was very successful, so Carla and I got the chance to make another proposal to the president of Inter IKEA Systems."
That was the starting point for the whole jouney. Ms. Hjort and Mr. Caspersen was planning to propose something radical – they wanted to move beyond the core business concept of IKEA and set up a space that with minimal red tape could explore the global challenges that will influence peoples life around the planet tomorrow and bring together designers, specialists and radical thinkers to design possible solutions for a better and more sustainable ways of living. IKEA really loved the idea and that's basically how the collaboration began. We then brought in Kaave Pour (creative director of SPACE10) and Guillaume Charny-Brunet (Chief Innovation Officer), and the four of us conceptualised the idea further and materialised it as SPACE10 as we know it today, where we are so privileged to be working with even more amazing people.
"At SPACE10, we focus on 5 macro trends that we foresee will change the world over the next five and ten years so everything from the technological breakthroughs that happens every day to an increasing lack of natural ressources, to rapid urbanisation – soon 70 percent of people will live in cities – to how the changing demographics will influence society of tomorrow as well as the increasing empowerment of the individual across the world and find patterns in that chaos and design for the needs and dreams that those changes will lead to.
We prototype and develop solutions in everything from smarter and more efficient ways to produce sustainable, delicious and nutritious food, to play around with open source design and architecture, explore ways of enabling a more circular economy to applications within Artificial intelligence, augmented reality and conversational interfaces.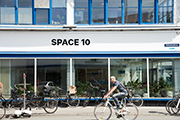 Exterior of SPACE10 in the meat -packing district. It makes use of the industrial atmosphere of the original facility.

Opened: 2016
https://space10.io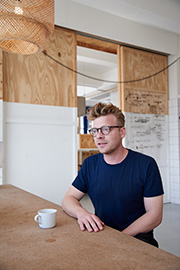 Simon Caspersen, Communication Director at SPACE10
No IKEA employees work at SPACE10, but experts from different disciplines are brought in from outside for each project. Surrounded by ideas and sharing an open system, there is an emphasis on innovation. One project currently in development is related to food. As is well known, all IKEA stores feature restaurants, so there is a relevant connection between IKEA and food.
"According to UN research, as population continues to grow over the coming 35 years, the demand for food is estimated to grow by 70 percent over today's level," Mr. Caspersen says. "SPACE10 is now looking ahead to the food crisis coming in the future, with ideas such as the use of insects as protein and mineral-rich algae and seaweed." A hydroponics farm has been installed in the basement of SPACE10 as an experiment into urban agriculture, with the cultivation of spirulina, a seaweed high in nutritional value, already begun.
However, under the method used by SPACE10 to gather experts and advance research activities, the results cannot be considered to apply to any one company or organizations. "From the beginning, SPACE10 has had the stance of 'Don't be a website; become a part of the web,'" I guess because things are sent outside," Mr. Caspersen says. SPACE10 does not become the originator, but is operated under the idea of creating a community and making the participants themselves the originator, which makes open innovation possible. "At SPACE10, we don't talk about scenarios that fuel fear of the future," Mr. Caspersen says. "Even if we're working on the same theme, we take a playful approach and are conscious as we call on people." Instead of fear, they want to pursue fun to the end. This is also a factor that helps to attract many participants.
"Our value is in being human first; that is, the ideal is to create an equitable, more sustainable future," Mr. Caspersen says. "In other words, each person thinks about what kind of life they want to live. Gathering people and a bottom-up approach are also necessary. Rather than solving immediate problems, we pose the universally-important question of, 'What way do you want to live' to people. We want to bring together a group of colleagues in SPACE10 who can think about and shape the way of the future."
The goal is to be "The interface of innovation." Based on Scandinavian values and mindset, SPACE10 continues to work for a world based on equality.
Interior Design: SPACON & X + In-house