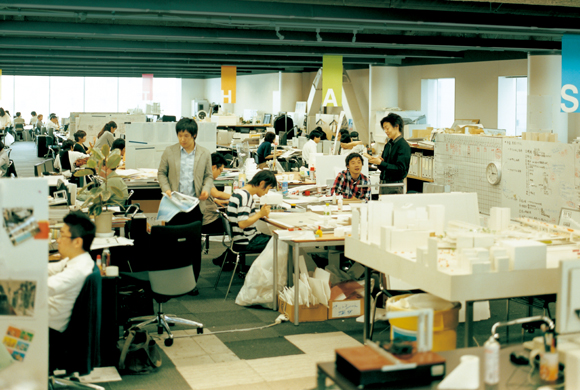 The Project-oriented Workplace
Changes for The Better
Projects create new "islands"
[Nikken Sekkei] Tokyo, Japan
At the eighth-floor Tokyo office housing the Project-Oriented Workplace (POW) are employees from various departments. "Design, engineering, construction, facilities and other functions are all there, with different employees working in lines of desks," says Takeyuki Katsuya of the Planning Department. "Being on the same floor with these teams increases motivation."
This was more efficient than existing offices with a split of personal and corporate zones. Also, "Being able to see things in a loud environment where you rub up against others increases everyone's knowledge. Informal horizontal connections increase the work ability."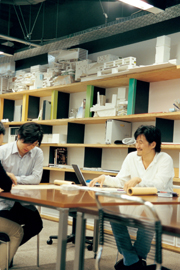 Free space in the central area, which anyone may use for meetings or other activities
As you pass alongside the team desks, you soon see models that have been created. "It's much easier than before to see what everyone is doing," says Tadao Kamei, company executive and the man in charge of POW. "It's always clear what is going on, and it's easier to dig into the project when you're coming in from outside."
The team desk island is the point of contact with the outside. The individual attraction to desk space is too likely to encourage it becoming a self-contained bubble, and thereby dividing an important company resource. "If you're working on your own, then working from home is fine," Mr. Kamei says. "To take advantage of a company's merits of scale, you want to create an environment where you can expect to do business."
A table set in the middle of the area does not belong to any particular project, but is there for information communications. "That makes collaboration with the outside specialists we invite in for projects much easier," Masaya Shioura of the Planning Department says. "It's not a conference room, because we're happier when people feel that has the sense of a work space." Project units will gather and disperse over time, so all furniture is lightweight and equipped with casters for easy moving.
The POW experiment is not only about space. Unrelated to job assignment or project, it is all about creating a structure of horizontal connections. "Through the extracurricular activities of Cloud PT, we want to pull out company resources, make connections, and communicate outside the company," Mr. Shioura says.
Cloud PT is not limited to employees, but can be joined by consultants, art directors, editors and other specialists from the wide range of collaborators. One special feature of the POW experiment is that it was led by relatively young employees in their 30s, such as Mr. Shioura and Mr. Katsuya. "T I believe it's an important experiment into new working styles," Mr. Katsuya says.
WORKSIGHT 01(2011.10)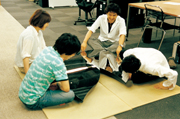 A hanami (flower viewing) table in the Cloud PT. It may look like cherry petals, but actually is the Japanese character for "o". The final goal is to create a table that spells out the word hanami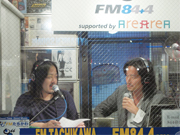 A regional-action PT, with a tie-up with broadcaster FM Tachikawa. IT broadcasts shows with municipal, construction and design themes.

Tadao Kamei
Operating Officer, Nikken Sekkei. Managed such major projects as the Tokyo Sky Tree and Queen's Square Yokohama, and was the executive leader of the POW project.