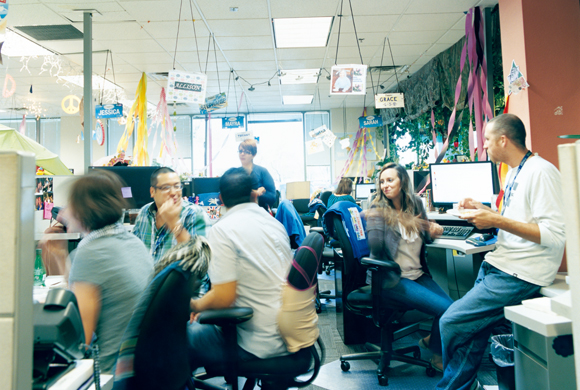 Creating Customer Satisfaction in A Playful Office
Expressing personality, and being proactive
[Zappos] Las Vegas, Nevada, USA
From the time you arrive at the office, you're in a place where you can be yourself: this is something you hear almost unanimously from Zappos employees. On the day we arrived, groups had just changed two weeks earlier, and employees were busy redecorating, or "personalizing," their spaces.
At Zappos, it's not just individual desks, but areas jointly used by a team or even conference rooms that people can decorate as they like. Each team will work on a design theme, and friendly competition between them is something everyone seems to enjoy. Gates are created at the entryway into the team areas, seats are fixed with name plates, and balloons, banners and streamers hang from the ceiling. This is an office where play and work coexist.
Behind it all is a concept that employees can work their best when they are really being themselves. "Create fun and a little weirdness" is the concept they use to welcome you to Zappos. The company also makes a concerted effort for people to spend fun time with other members of their workplace; anyone can work with anyone else with whom they find synergies, and wherever they find the enthusiasm for their job. This is the Zappos philosophy.
Employees are encouraged to socialize outside office. When the company first moved its offices to Las Vegas, many employees worked and spent their private time together—everything apart from sleeping.
Company president Tony Hsieh says that the condition in which employees do their very best work is when they are passionate, when they can speak their minds, and when they are being truthful.
There is no distinction between public and private; there is a relaxed, open attitude; each person accepts both diversity and individually; and there is the assumption that creative work will happen. It might seem that the personalization means that there is nothing consistent in the offices, but employees stress that the decoration is an important part of their ability to perform their best. That is the approach that allows them to deliver "Wow!"
It's illustrated by something that happened at the company call center. A man who forgot his keys and cell phone at home contacted Zappos live chat through his computer. "Can you please call my house and get my daughter who is there to open our door?" he begged the staff. They immediately did just that, something that made him very happy. It is this kind of unusual contact that makes customers passionate Zappos fans.
A customer who feels that they can make this kind of phone call doesn't perceive the Zappos employee as call center staff, but rather as "John" or "Lisa"— they feel they are talking to real people, just as if they could see their faces.
Other company employees are just the same. Because employees have their own personal space, they are able to make unconventional decisions, and are more likely take on responsibility.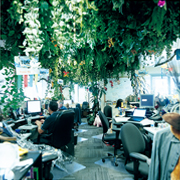 There is only one condition for decorations: they have to be fun for the people in the area. As long as the employee accomplishes this, anything is OK.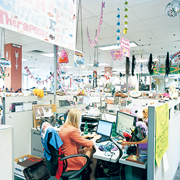 One of the most notable feature of the company is almost excessive decoration in the offices. At every desk are balloons, banners, lined up toys and figurines.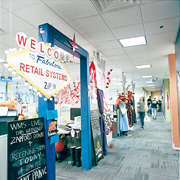 Whether the decorations are created during working hours for an individual's desk area or a team area, all the costs are borne by the company.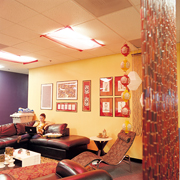 Chinese design in a team meeting room
01 10 Core values
The 10 core values were created in 2005. The values form the basis for all action, from the approach to customers to decision-making to employment. "All employees can unconsciously make a decision based on these core values," Jon says. "They all feel that these words are their own."
02 CEO Tony Hsieh
A goal for Zappos is that employees will spend their entire career at the company. For that reason, the CEO himself takes responsibility for "joyousness." His trademark is a shaved head, and once a year he holds a open "shaved head day" where he will use clippers to shave the heads of any employees wanting a close cut. "Why have a head-shaving day?" he asks. "No reason at all! We just do it because it's fun."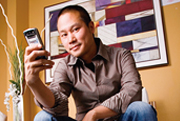 03 Many in-company events
On Independence Day or Halloween, or even when the Zappos website is renewed, the company will hold events such as a barbecue or costume party. We heard from many employees that these kinds of events help to increase their sense of identity as members of the Zappos family.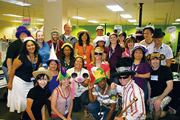 ©2011 Zappos.com, Inc. or its affiliates
04 Culture book
What is the Zappos culture, and what motivates us; opinions about these and the requests that are being made of the company are captured within the Culture Book. It is published in a "real voice" format, without editing or censorship, and is distributed free to both customers and employees. Mr. Hsieh is in chare of its production, which results in a book more than 300 pages long.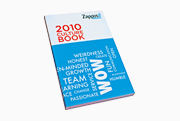 05 The cafeteria
Many, drinks and snacks in the company cafeteria are free. The cafeteria is also used for karaoke events, poetry meetings and many other events. On the day of our visit, a group providing care for glasses and contact lenses was there; those who wished could also have an examination at no charge.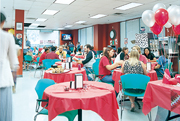 06 "Super Awesome Descriptions"
Because the company's work is the net-based sales of shoes, clothing, handbags, accessories and more, the first point of contact with the customer is through the website. Once a month, a "Super Awesome Description" is selected and displayed. The standard for something being "awesome" is whether it is fun to read or not. Technical explanation is also one of the standards applied in evaluation.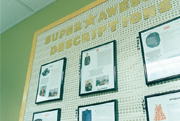 07 Many healthcare programs
One of the unique features of Zappos is its supportive healthcare system. This covers a wide range, including a 40-percent discount for employees joining the life insurance program, paid voluntary leaves, nursing rooms, a rest room that can be used 24 hours a day, pet insurance and more. The photo at right shows a panel mounted near the entrance. "Benefits are Hot!" is written above the thermometer, with the healthcare programs provided by the company listed below.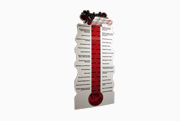 08 Zappos Tour
One of the most important ways to communicate the attraction of Zappos is the Zappos Tour. Zappos Insight was established as a separate company providing special guides who give an explanation of what is going on within the company, and what projects particular people are working on. On the day of the tour, a shuttle bus will pick up the guests at their hotel, train station or airport. At left in the photo below is the lead guide, Jon, along with team member Andi.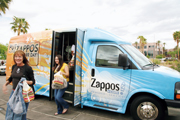 The first of Zappos's 10 core values is to Deliver WOW Through Service. The challenge for employees is to go further than customer expectations. The source for the 10 core values—which also includes Be Humble—is to be a net-based business that serves its customers with exceptional human kindness.
For employees, satisfaction doesn't come from saying, "Look at this great thing I did!" but it is seen as more important that they say, "Look how happy being able to do this for our customers makes us." Zappos is unique in its personnel evaluation system, as it is based on answering the needs for learning and self-improvement.
The training team also holds classes teaching more about the employee's next job step. The evaluation does not focus on whether work has been completed, but on what the employee has learned, and what the next leap forward for them can be. In recent years, the company has moved beyond just shoes to begin the sales of clothing, bags cosmetics and other products.
Employees are not simply to increase customer satisfaction, but to think naturally about how to further develop new business. That, they say, is the key to leading the way to the WOW experience.
From WORKSIGHT Preview Issue (Nov.2010)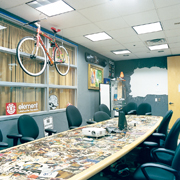 One of the largest meeting rooms. A bicycle hangs from the ceiling, while the large table is covered with photographs.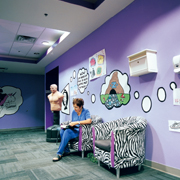 The purple theme of the elevator hall. Zebra-stripe chairs and a human torso add to the décor.