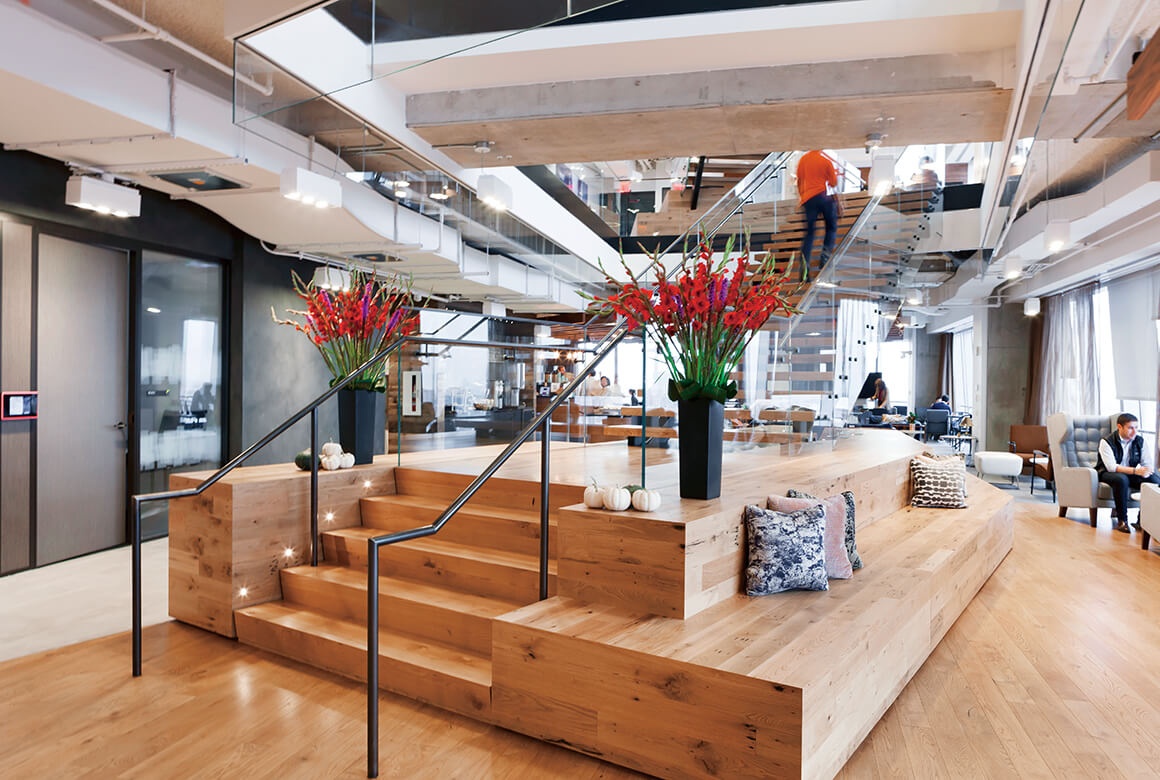 Engineering creative "collisions" via technology designed for people
[Boston Consulting Group] New York, USA
When the Boston Consulting Group (BCG) moved to Hudson Yards, the largest private real estate development project in the U.S., it wanted to test out a new approach to the concept of work.
Dubbed "collision coefficient," the idea came from a moment of inspiration a BCG executive had at Zappos while talking to founder Tony Hsieh, a strong proponent of the value of unexpected "collisions" between employees. BCG's version of this "collision coefficient" idea calls for instigating unplanned meetings or discoveries–ways to invite serendipity.
Serendipity was just what the former office lacked. The building was divided into separate areas, so the physics of workers running into each other were simply not possible.
"Future offices are not just a place where people come to work. It is also a place for individuals to create personal connections with their colleagues," says former BCG Senior Partner and Managing Director Ross Love. For this reason, "A higher level of collision was necessary to change our office culture."
To achieve this, specific changes were applied at both the analog and digital level. The most visible change was the massive staircase intersecting the center of the office. Connecting the floors in groups of three naturally invited workers to cross over onto different levels, organically increasing opportunities for them to bump into each other.
Another change was to dedicate 89% of the office space to open-format, Activity Based Working (ABW). Laptop in hand, workers can work from anywhere in the office, rather than from a designated desk–another way to encourage movement and collaboration.
Compared to former years when work happened in compartmentalized spaces, employees say the new layout allows them to have more unexpected conversations in fluid spaces with coworkers from different teams.
The in-house High Line Café, named after the municipal park next door, is a communal space accessible to all employees–the kind of space that didn't exist in the former office.
It's used for breakfasts, lunches, company-wide meetings and smaller meetings alike, and is equipped with a large screen to broadcast company news from around the globe. It's also used to host frequent public events, such as town halls and client receptions, making it an important hub between in-house business and the outside world.
The user-friendliness of the reception area resembles the lobby of a hip hotel, a departure from the more conservative image of one of the world's leading consulting firms. A handful of Concierge team members flawlessly handle the comings and goings of over 2,500 guests every month, much to the admiration of Executive Assistant Justine Francois, who praises the team's unflagging spirit of hospitality.
"Usually in the mornings, there's someone standing here to greet people. Depending on whether it's one person or a group coming in at one time, as a member of the concierge team, they're able to say, 'Hi, Yumi, I know you're here to see Justine.' "
Gensler, the company responsible for BCG's interior design, calls it a "radically different" corporate style that incorporates custom graphics and commissioned artwork on every floor to embody the spirit of the city.
These unique spaces within the office impart a warm and welcoming impression on the analog level, while on the digital side the seamless integration of technology has had a dramatic impact on how the company operates.
A custom in-house app enables employees to book or check-in to conference rooms, scan receipts, and see where everyone is. To speak to a particular colleague, you can simply check the app to see where they are.
Phillip Ross of Unwork, a workstyle consultant who worked on the BCG case, calls this type of environment an App Centric Workplace. "For example, you are able to find your work partner within the building instantly. The App Centric Workplace creates a physical social network and induces collision. Engineering serendipity in this way is a key element for high performance workspaces of the future."
All meeting rooms are equipped with iPads preloaded with an easy-to-navigate portal that launches a presentation, or video call with the push of a button. A paperless office calls for document access to be a frictionless process. Landlines and speaker phones have also been removed in favor of wireless connections. Everything is Wi-Fi-centric, including video calls enabled by software installed on laptops and mobile phones.
So how often do employee "collisions" actually happen? Studies were conducted at both the former Midtown offices at 430 Park Avenue and 315 Park Avenue South, and at Hudson Yards to track the data. Sure enough, unplanned interactions were happening with much more frequency at the new offices, clustered around places like the cafe, and near the stairs.
Francois agrees: "If someone I work with is coming down and I'm coming up- that lends itself to this collision as well…This can eliminate the need for a 15-minute meeting. If I see you on the stairs and I'm able to ask my question, it eliminates time off the counter and allows me or someone else to maybe take that 15 or 20 minutes to focus on something else."
Consultancy for Work Style:Unwork
Interior Design:Gensler
Architect:Kohn Pedersen Fox
From WORKSIGHT 13 (2018.6)