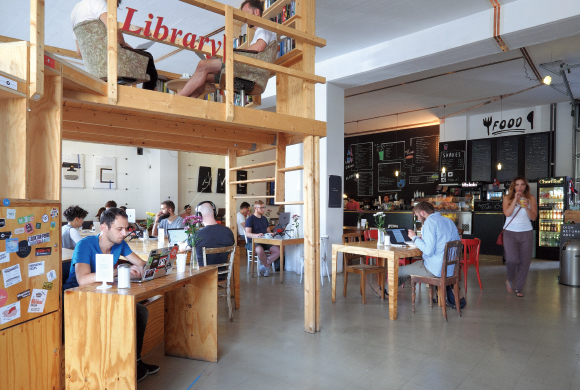 From a hangout for interesting people
to a place that attracts large corporations
[betahaus] Berlin,Germany
Digital nomads tapping at laptops and born-yesterday startups sit next to workspaces occupied by Daimler, Siemens, Bosch and other major companies. Whose office is this? This is a world away from the traditional image of a coworking space. The chairman of the German Railway visited here and said, "We can't create innovation unless we work with startups," which was something no one expected to hear.
"This was impossible ten years ago, but now the number of large companies like this is increasing," says Christoph Fahle, the founder of Betahaus.
"In the near future, we will renovate this building," he says. "Audi recently decided to join us—pretty crazy, huh?"
Betahaus opened in Berlin in 2009, making it now a well-established coworking space. The building is a 5000-square-meter, five-story structure that was originally a print factory for newspapers. Inside are open coworking floors with desks, large and small private rooms, various event spaces, design thinking spaces, a cafe, and a wood workshop—the environment is ready to take on all work styles.
For users, however, perhaps the most beloved Betahaus feature is its unrefined atmosphere. Rough wooden materials are widely used in the walls and desks, and there is a definite do-it-yourself feeling. Mr. Fahle, who has no background in design or architecture, built it together with the friends he founded Betahaus with. No one can expect to find a perfect office, and that's why Betahaus, like a beta version of software, keeps on changing. To make it easy for early-stage entrepreneurs and freelancers to join, the membership fee is also kept low.
When a variety of users gather in this way, they form a community that seems to emit a magnetic field, drawing in other users who want to connect with them. This kind of virtuous circle is what has made Betahaus so successful. Now they have branches in Hamburg, Barcelona, and Sofia. "When we opened, we were young and had no resources," Mr. Fahle says. "We've become more professional, but it would be difficult now to create that same environment.
Mr. Fahle ran a company while he was studying politics at university. He had several key ideas before he graduated: he didn't want to work for a large corporation; he didn't want to work like his parents ("My father wanted me to work for a big company"); and he wanted to work with inspiring people. Watching so many people carrying their laptops to cafes and turning those casual spaces into workplaces led him to realize that there must be many workers of his generation who had the same ideas about work, he says.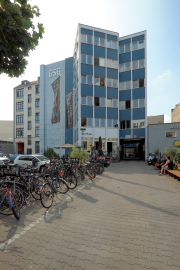 Exterior of Betahaus. It's a refurbished, five-story building that was originally home to a printing factory. On sunny days, the café extends with a large terrace outdoors.
https://www.betahaus.com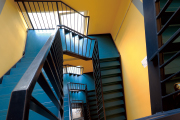 Stairway passing through the center of the building. Although there is an elevator, most people prefer to use the stairs.4. Wood workshop. The ceil
In 2006, Citizenspace, what is now called the world's first coworking space, opened in San Francisco, but Mr. Fahle only heard about it afterward. At the time, it only had 20 desks, and was very far from his idea. That is why he essentially invented Betahaus on his own. Fortunately, the city of Berlin was tolerant to young people of modest means who wanted to work. Mr. Fahle first came to Berlin in 2000, about the time he graduated from high school. Startups from around the world began to be attracted by the city's cheap real estate, and because it was a place that accepted creative efforts. Betahaus was started with just €40,000 borrowed from Mr. Fahle's family.
"I think that one more reason why Berlin has succeeded as a startup city is the surplus space that is available," he says. "There is unused space, or space that is being used illegally, and a governmental system in place that is tolerant of that. Or perhaps it's not really so tolerant; the system is just not functioning well." He laughs. "For example, there was a one-year delay from the time we began serving coffee at Betahaus until we actually got the license allowing us to do that. If it were Munich, the letter would arrive in two days or you'd have to close the shop." Even so, how did this strange space where digital nomads and large companies coexist come to life?
Simply put, it's because the Betahaus community wanted it. If the community wants opportunities to collaborate with large corporations, and their abundant resources, Mr. Fahle says that this opportunity should be provided.
Interestingly, large companies also wanted to work with digital nomads and startups. Betahaus has been consulting with large companies since last year.
Large corporations often ask themselves, "How do we become a successful digital company like Google," and they want to connect with startups. Betahaus may not know how to radically transform a company employing tens of thousands, but they do know how to set up pilot projects to connect large corporations with startups. For example, they offer various accelerators, hackathons, and startup immersion programs. Startup Immersion is a process in which large companies learn about the startup environment. Betahaus's new role is in drawing up these images. "Large companies come to Betahaus, look around, and realize that they must drastically change their mindset," Mr. Fahle says.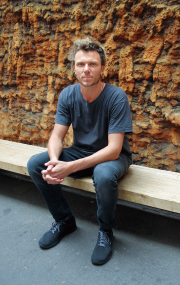 Christoph Fahle CEO and Founder Betahaus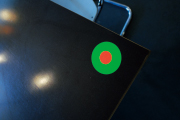 Mark to identify whether a seat is free or fixed. Green means the seat is free; red means it belongs to a specified user; and red inside green means that it's someone's designated seat, but that user is away temporarily and the seat is now open to anyone.
He relates an episode about Bosch, a leading German manufacturing company. When they visited the hardware laboratory at Betahaus and saw a startup working there, the Bosch engineer said, "What is this?" Mr. Fahle explained that the startup working there was a product startup called Miito, creating a sophisticated water heater with an Apple-like product design. Through Kickstarter, they raised € 800,000 and later partnered with Starbucks.
"When Bosch asked them, 'How long did that development take?' the answer was, 'Seven months, which was less than the time it would normally take any large company.'" Mr. Fahle says. "Looking at the rapid product development in places like Betahaus companies like Bosch consider taking on a startup approach themselves".
Working next to freelancers and startups is important for corporates who want to stay on top of innovation. Places like Betahaus therefore have a real value for them "The role of the coworking space is, I think, to assist with this process and act as an intermediary."
The true core of the community is the startups, entrepreneurs, creators, and digital nomads. And a main point in fostering that community is collaboration; not only amongst each other, but also with larger companies.
If we think first about digital nomads, "flexible" is the keyword for the future. People working in Berlin today might be living in Paris next year, and in the winter, move on to a warmer place. If that happens to be Barcelona, there is a Betahaus there where they might run into their friends. The next Betahaus will open in Milan. "When I ask Millennials, 'Do you want to end your life in the same place you are at today?' their answer is, 'I want to visit many different places before I die,'" Mr. Fahle says. But what if they are traveling to Tokyo? The places where people can make new contacts are limited. The goal of Betahaus is to create a network of coworking spaces around the world. They have already begun a project to find coworking spaces in various places; Mr. Fahle notes that he was amazed at the changes he found in Southeast Asia. "We also want to create a common, worldwide membership," he says. Betahaus is always one with its community.
Consultancy for Work Style: Not publicly released
Interior Design: Not publicly released
Architect: Not publicly released
From WORKSIGHT 11(2017.4)