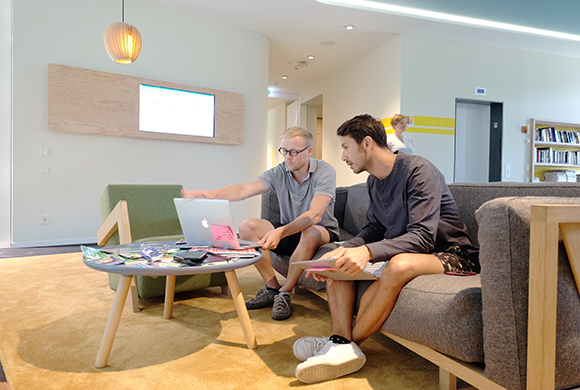 SAP: major-corporation innovation, born in Potsdam
SAP Innovation Center
[SAP Innovation Center Potsdam] Potsdam, Germany
SAP is known for its enterprise resource planning (ERP) software, and is the German company with the Europe's biggest software maker. In recent years, the company wanted to make a breakout in the area of software development, so, using design thinking, SAP has put extra effort into customer problem solving as well as into future business thinking.
SAP has a network of five research and development centers globally, known as Innovation Centers; one of them is the SAP Innovation Center Potsdam, in Potsdam, Germany. SAP's headquarters are in Walldorf, a town in southwestern Germany. Potsdam, however, is in the complete opposite part of the country in northwestern Germany, and about 600 kilometers away from Walldorf.
"Have you heard of the term, 'innovation dilemma?' " asks Martin Heinig, the man responsible for strategy at the center. "It refers to the situation in which large corporations concentrate too much on their current, successful business and don't care about what's going on in the outside world, so they get left behind the times. Talking about SAP, we would like to avoid the situation where engineers focus only on solving technical problems of existing products, but they don't think about upcoming disruptive technologies or what could be become the next big business in the future. Therefore, we saw that a base far away from the headquarters where ideas could be prototyped in a protected environment was needed, and created it."
So to escape from the innovation dilemma, an unprecedented new facility was created. And for that, they needed talented young people with an entrepreneurial spirit. Potsdam was chosen because of the proximity to the buzzing tech hub Berlin and the presence of Potsdam University and the Hasso Plattner Institute (HPI), a public-private research facility established by a co-founder of SAP.
"An Innovation Center needs three things," Mr. Heinig says. "It needs human resources with a variety of skills and nationalities. It must have a suitable place. And it needs a governance process about how to actually carry out design thinking and innovation." Potsdam is also close to Berlin, so in thinking about attracting young, international talents, choosing Potsdam was important for SAP.
"Communications" was the theme for the design of the Innovation Center. "Openness, transparency and flexibility were the three important points," Mr. Heinig says. It was also important to have a space where the design thinking process could be incorporated at any time.
Compared to common office buildings, Potsdam features an easy-access, open space. There are as few individual rooms as possible, with a layout that is much like a hole. "We incorporated glass walls, so you can see all the way to the edge of the floor. Because the partition walls are also moveable, it is easy to open or close a space. People are also free to write on the walls, so they can take notes at any time. I believe that creativity is promoted because of this environment."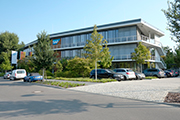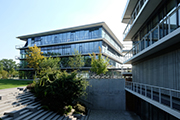 The main building is in the upper photograph, the new building below. The two buildings are connected by an underground passageway.

Employees: Approx. 250
https://icn.sap.com/home.html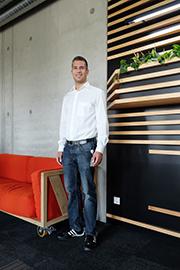 Martin Heinig, Head of Strategy & Operations, SAP Innovation Center Network
What new processes have been created at the Innovation Center? "One of our initiatives is to foster in-house entrepreneurs," Mr. Heinig says. "Employees present their ideas, and if it is accepted, a startup can be created within SAP. We call it 'Intrapreneur Program'."
After that, a coach is assigned to the project for three months, and the person is given time to take on the project. In the meantime, a prototype is created, with a process for customers to try it out as well. This is to judge whether the concept is something customers actually want. "Ultimately, there may be the conclusion that we will develop the prototype into a future SAP project," Mr. Heinig says. "To realize a unique idea that we haven't had in the past, I believe it's necessary for them to have the experience they would in the environment of an actual startup where they can 'fail quickly.' "
Changing the subject slightly, looking around Japan, there are several companies that have innovation hubs. However, even if an interesting idea emerges, in many cases it will be torn down along the way and never actually become reality. Why is this?
"We don't want this to happen at SAP," Mr. Heinig says. "Our goal is always to eventually hand over a project to the big SAP where it is rolled out and scaled globally. But if you let go of the project too early, it often ends in failure. Therefore, it's important to always see the project through to the end. We created a cross-sectional organization. In other words, we don't solely team up with developers. We always add people who are designers, business developers or marketing experts who grow a topic together. The final point is customer feedback. It's important that customers try out the project, and that we evaluate the feedback."
Currently the Innovation Center is focusing on two main fields. Making enterprise software intelligent with Machine Learning. It enables computers to learn from large amounts of data without being explicitly programmed – a big topic for SAP. Another focus area is to make enterprise software ready for the age of the knowledge worker by creating software which allows live collaboration and problem solving. Prior to that, there was also work in the medical and healthcare field – a project that was very successful and after being transferred established a new business for SAP headquarters. The Innovation Center's activities have been consistently fruitful.
The location in Potsdam was also fortunate. There originally was talk of establishing the Innovation Center in Berlin, but, as previously mentioned, Potsdam was selected because of the tranquil location at a lake and availability of highly-skilled talent. "People who work here like the environment of Potsdam," Mr. Heinig says. "I feel like I'm able to work calmly here. I think it's interesting that people seek what they don't have. A guy from the Berlin office came by and said, 'I get a lot of inspiration by the lake,' but when a person from Potsdam goes to Berlin they say, 'It's more exciting to be in the city center!' Because you can work one way or another, depending on the mood of the day, I think it was a positive result to have workplaces in both Berlin and Potsdam."
Of the employees working in the Innovation Center, two-thirds live in Berlin, one-third in Potsdam. While being able to move flexibly between the two cities, people can bring their own perspective to the promotion of research and development.
Consultancy for Work Style: in-house
Interior Design: Scope Architekten GmbH
Architect: Scope Architekten GmbH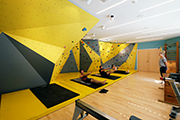 Training room in the main building. Many employees come here for exercise.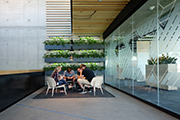 Meeting room in the new building. Many such spaces have been created throughout the building.
SAP Innovation Center MD
Only available in Japanese

"We actively take on the young ideas from research and development based within universities."

"What is Design Thinking, which drives technology to an attractive solution?"